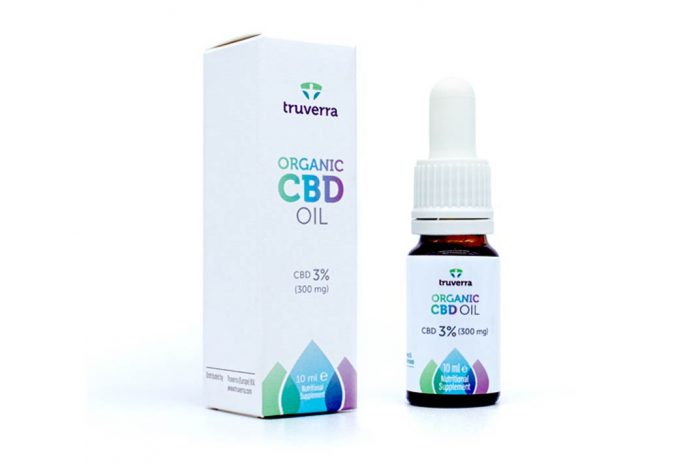 Ah I've finally come to the end of my collection of Truverra products to review, but you should definitely go back over my recent posts to find plenty of other great products you might like, such as the liposomal CBD and the CBD lip balm. But today I'm writing about the Truverra organic 3% CBD oil, so I hope you enjoy the review!
How Much CBD Do You Get?
The product I have contains 300mg of CBD (3%). A single drop contains 1.36mg of CBD, of which you can do the dosage you feel works best for your body, but the general recommendation on the bottle is to take 10 drops per day, which works out as 13.6mg of CBD.
Considering the bottle is 10ml, you will get 220 drops, while this product will last 22 days (based on 10 drops per day).
This product is a natural full spectrum cannabis extract, meaning it doesn't just contain CBD, it has a vast number of different cannabinoids and terpenes. The reason for this is because they actually work better in unison in what is known as the entourage effect. For clarity purposes, your other options are isolate (pure CBD) or broad spectrum (all the cannabinoids without any form of THC). You can read my guide on the difference between full spectrum CBD and isolate CBD if you would like to find out more.
How Do You Take It?
As with any CBD oil, you should be dropping them under your tongue and hold it there for 1-2 minutes, before swallowing the rest. You should also remember to shake the bottle before taking it.
Can I Mix This Into My Smoothie?
I wouldn't recommend using a full spectrum CBD oil in your smoothie, as it will affect the flavour and you will not be taking it sublingually, meaning much of it will be wasted. If you wish to add it to a drink or food source then there are plenty of other options which might be more efficient.
Where Can I Purchase The Truverra Organic CBD Oil?
This product is available from the Truverra website for £22.99, however you can also get a 5% version. But I have some good news! You can get 10% off with the discount code 'cbdsloth'. I'm very happy to say that they offer free delivery in the UK if your order comes to more than £20, which works for this product. They also add in free tracking, meaning you can find out where your package is at any point in time once you have completed your order.