I recently reviewed the Ethos CBD Heat Balm, which is worth reading if you need something to help you recover post workout or if you're searching for a pain relief tool.
It was incredibly hard to do so, but I managed to hold off a little until I tucked into these peach rings. Seriously, having those on my desk was hard, especially as lunch time kept sneaking up.
Why Peach Rings?
CBD oil is the most popular consumption method of cannabidiol, as we've witnessed the industry almost double in size over the past two years.
But for many people, the taste of hemp can be quite offputting, with the aftertaste proving unpopular for many, as they seek a tasty alternative. Some will opt for a flavoured CBD oil, however gummies offer a convenient option which you can take to work or keep conveniently in your bag and take a few when needed.
If peach rings aren't your thing, they also have traditional gummy bears, as well as cherries. I was really tempted to go for the cherries, but the peach rings won out, as I haven't had too many peach flavoured gummies to date.
How Much CBD Do They Contain?
Each peach ring contains 20mg of CBD, while you will also get a minor amount of a few other cannabinoids, including 0.26mg of CBG.
At 20mg per ring, most starters will be fine consuming one per day, while you can have a maximum of three per day, with the FSA recommending no more than 70mg in a day.
I took 3 per day during testing, however a difficult aspect of that was that it's hard to keep my hands off gummies when they're nearby.
They include 25 rings in a pack, meaning you get a total of 500mg of CBD.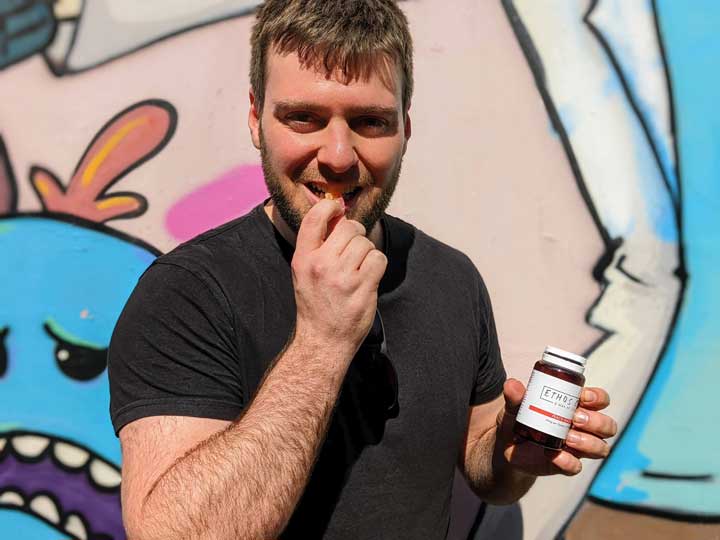 How Are They?
They tasted similar to the Haribo peach rings I had during childhood, albeit you could taste and smell the scent of cannabis.
They had a yellow base, with an orange and red top, while they measured ¾ of an inch by ¾ of an inch (people have been requesting measurements recently, not quite sure why, but I'm always happy to help).
Each ring was soft and chewy, while they had a sugar coating. They also get some of that great flavour courtesy of glucose syrup.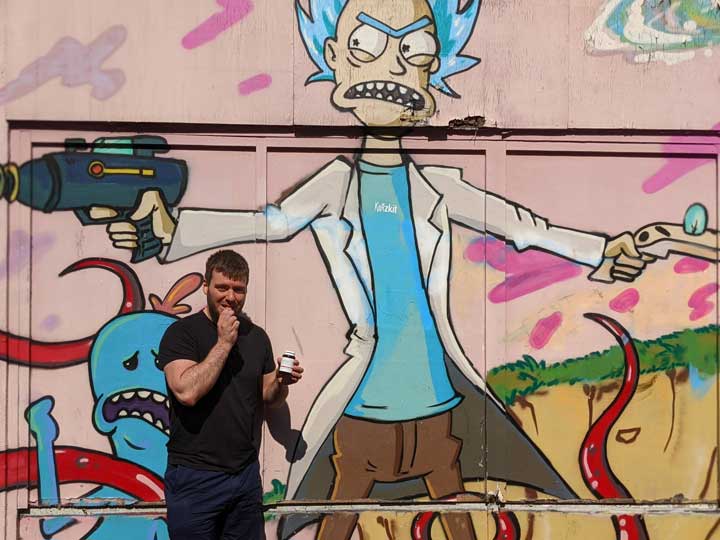 How Much Sugar Did They Contain?
I'm no stranger to dieting, so measuring my sugar intake and my calories is normal nowadays. They state on the nutritional information that per 100 grams, you will get 354 calories, of which 75 grams are sugar.
Well, this doesn't directly answer the question, so let's do some weighing. So I got the scales out and 15 gummies weighed 50 grams, which would mean that 30 peach rings would be 354 calories, or per ring you would be consuming approximately 11.8 calories, with 2.5 grams of sugar.
Now, considering you can only consume a maximum of 3 gummies in a day, you will hardly be breaking your calorie allowance if you're on a diet.
Where Can I Buy A Pack From?
You can purchase the Ethos CBD Peach Rings directly through the brands website, available for £20 per pack, which is a highly competitive price which won't break the bank.