It's always a good day when some CBD gummies turn up at my door! This is the first of two reviews I will be conducting of the Good Level product range, while I couldn't help myself but start off with the gummies.
The cold pressed CBD gummy bears are gluten free and dairy free, while they are made in the UK.
Are These Vegan Friendly?
They offer two different packs of gummies on the Good Level website, one being sugar free and the other being vegan based.
The price, quantity of gummies or amount of CBD doesn't change based on which you pick, the only difference is the quantity of sugar in the pack, as well as the presence of pectin as an alternative to gelatine.
Pectin is now commonly used as a gelling agent for gummies so you can have that great taste and texture of a gummy bear while utilising a plant based source.
So How Much Sugar Does Each Gummy Contain?
The packaging states that you will get 41 grams of sugar per 100 grams of weight.
I couldn't find any details of the weight of the pack of gummies or the individual gummies on the packaging or on the website, so I decided to stick my Sherlock Holmes hat on and do some personal investigations.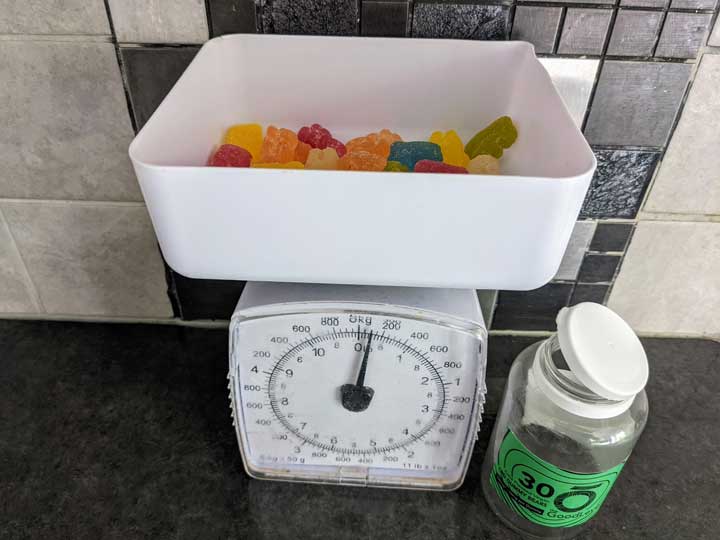 Like some crazed Willy Wonka, I poured the sweet bears into the scales to find out the total weight of them all, coming to 100 grams.
Containing 30 bears in the tub, this would mean you're consuming 1.3 grams of sugar per bear. The full pack contains 320 calories, meaning each gummy has 10.6 calories.
How Do They Taste?
Containing sugar and glucose syrup, you're guaranteed one thing, they are going to taste absolutely scrumptious, even if they're a bit of a guilty pleasure.
They have six different flavours:
Green = Apple: Ah these were beyond tasty, why are there not more apple flavoured gummies?
White = Pineapple: As far as I remember, I think this is the first time I've tried a pineapple flavoured gummy. It certainly added a tropical mix to the usual flavours.
Yellow = Lemon: Mmmm like a naughty lemon drizzle cake, I never truly appreciate anything lemon flavoured until I eat it, then I become hooked.
Blue = Blackberry: This one was nice, but I preferred the others a little more.
Orange = Orange: Just in case you couldn't guess from the colour, the sweet orange flavour reminded me of the Calippo ice lollies that filled my childhood.
Red = Strawberry: Strawberry is always a great flavour, with an instant burst of juiciness, I loved every second of it.
My favourites, in order, would probably go apple, lemon, strawberry, orange, pineapple and blackberry.
What Does The Lab Report Show?
All the gummies use their 5% CBD oil, with the lab test conducted in March 2022. Behind the 300mg of CBD, you will also find a number of other cannabinoids present, including CBDA, CBGA, CBG, CBDV, CBCA, CBC, THCA, THCV, THC and CBDVA.
These are from cold pressed hemp, meaning no heat is involved, hence why you will also see a few more of the acidic cannabinoids present in the lab report.
How Many Should I Take?
Each gummy contains 10mg of CBD, while the FSA recommends no more than 70mg in a day, which would be 7 gummies.
Most people take around 20-40mg of CBD in a day, while I went for 5 gummies per day during testing, however that's largely because they were very moreish.
You can always start off with 1, see how your body reacts and then take another if necessary. Gummy bears do take a bit longer than CBD oil to take effect, so you might have to be a little more patient.
Where Can I Buy This From?
You can order The Good Level vegan CBD gummy bears from their website for £29.99. They offer free nationwide delivery on orders over £50, so you might want to buy a couple of packs or have a look through their other products, including their CBD oil, which I will be reviewing very soon.