While I would most commonly recommend CBD oil over gummies, I know a lot of people who strongly dislike the taste of CBD oil and therefore either opt for a flavoured oil or some CBD gummies.
I've tried my fair few different CBD gummies. I mean seriously, somewhere around 70 different brands of gummies to date, so I like to think of myself as a gummy connoisseur.
I will try my best to walk through what you need to know before buying a vegan gummy and what you should be looking out for.
Why Aren't All Gummies Vegan?
Traditional gummies, whether we're talking about CBD gummies or sweets from childhood, tend to contain gelatine.
Gelatine is a translucent protein, which works as a stabiliser & thickener and texturizes the food you're eating. You won't just find it in gummies, you may also spot it in your cream cheese or margarine, so be careful if you're a vegan.
It doesn't add colour or flavour to the mix, it simply works by binding the ingredients together, improving cell attachment.
Gelatine is sourced most commonly from either cows or pigs, extracted from the skin, bones and connective tissue.
What Alternatives To Gelatine Are There?
The most common I've found in CBD gummies is pectin, a plant based source which seems to have become the go-to alternative option.
Pectin is normally derived from apples or citrus fruits, with the main component being galacturonic acid. It's a water-soluble fibre found in the cell walls of fruit, while it works as a gelling agent in the same functionality as gelatine.
Some other alternative options you may find to gelatine include agar-agar, carrageenan, corn-starch or xanthan gum, but to name a few.
Agar Agar is becoming increasingly commonplace as a gelatine substitute, however it weirdly hasn't made itself into the CBD scene just yet.
What Vegan CBD Gummies Are Available?
I have included some of the best options below for you to choose from. All of the below I have personally tried out myself and have enjoyed.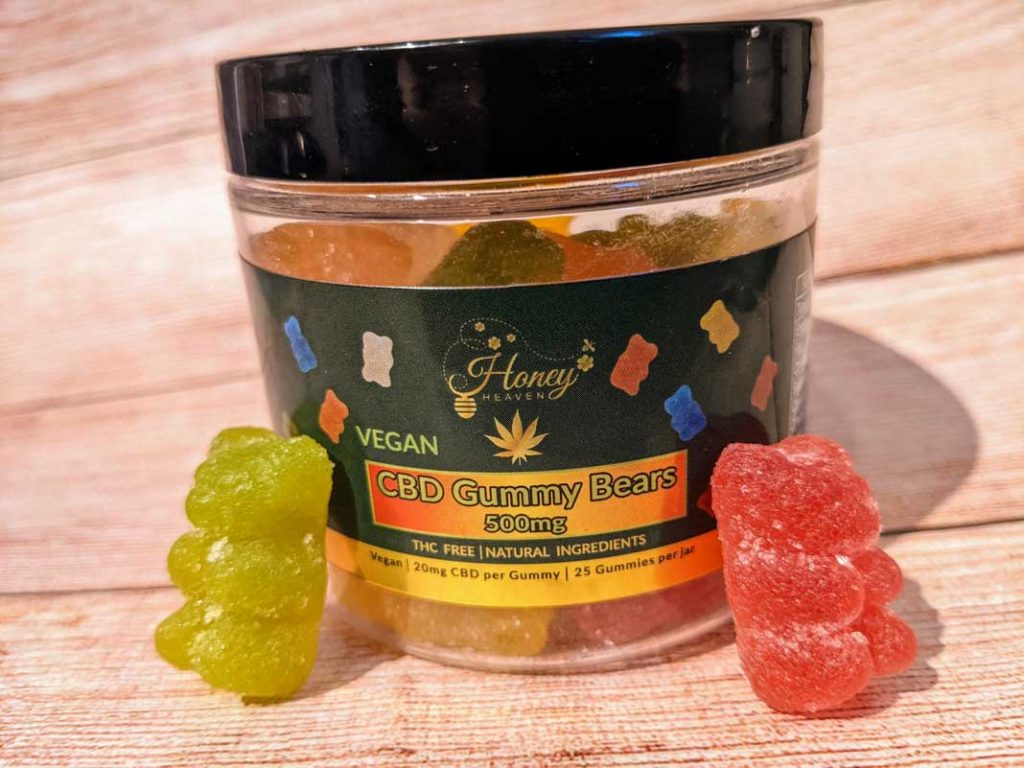 I love the broad range of CBD products by Honey Heaven, including (as you can imagine by the brand name) honey and even wine!
These gummies came in 6 different flavours, while each gummy contained 20mg of CBD, which is most certainly at the top end of what you expect with gummies.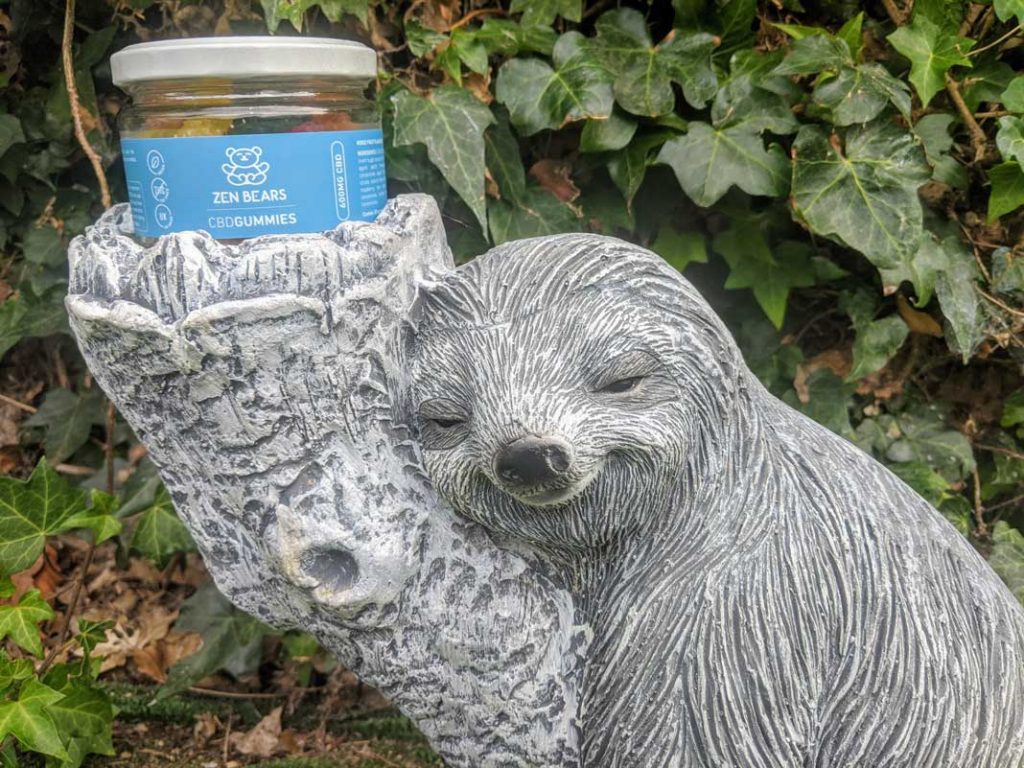 Zen Bears is a brand that focused on gummy bears over CBD oil, making it their pure business focus, creating a great quality product.
These bears also contain 20mg of CBD, while you get 30 bears in a jar. The jar is also glass, instead of plastic, so a double tick.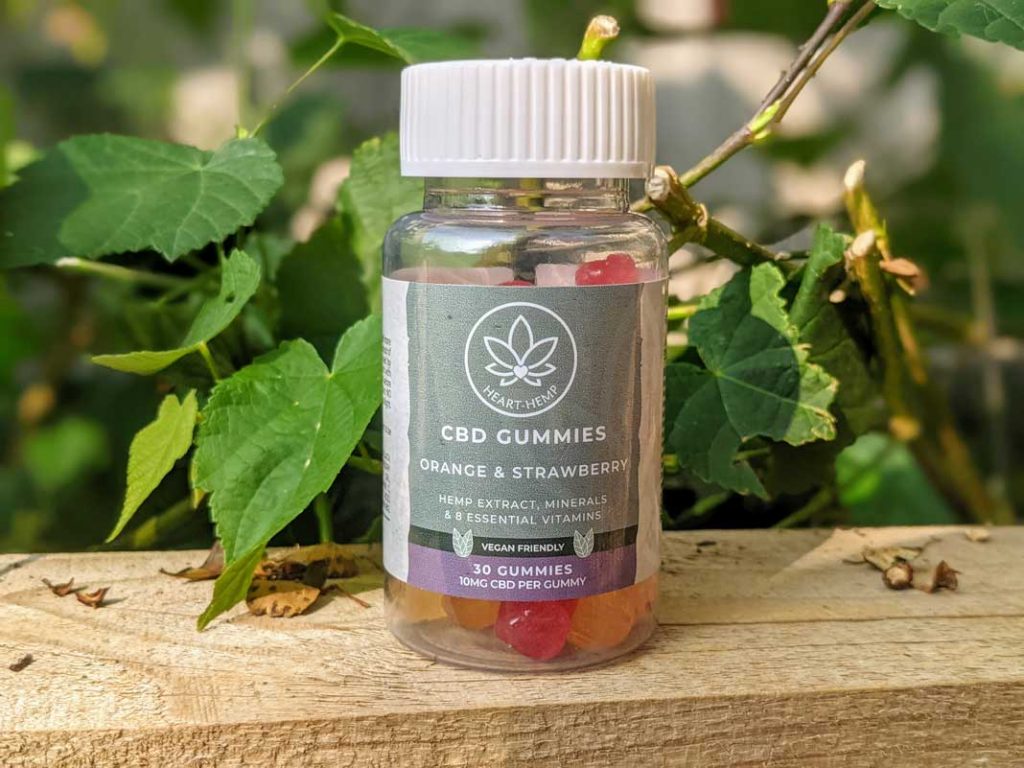 These great tasting gummies, being orange and strawberry flavoured, have gone the extra mile by including vitamins and 5-HTP.
I strongly believe this will be the future with CBD products, as brands stand out in the crowd by offering more than one beneficial ingredient. I'm also a huge fan of anything that contains 5-HTP, helping to increase your serotonin levels.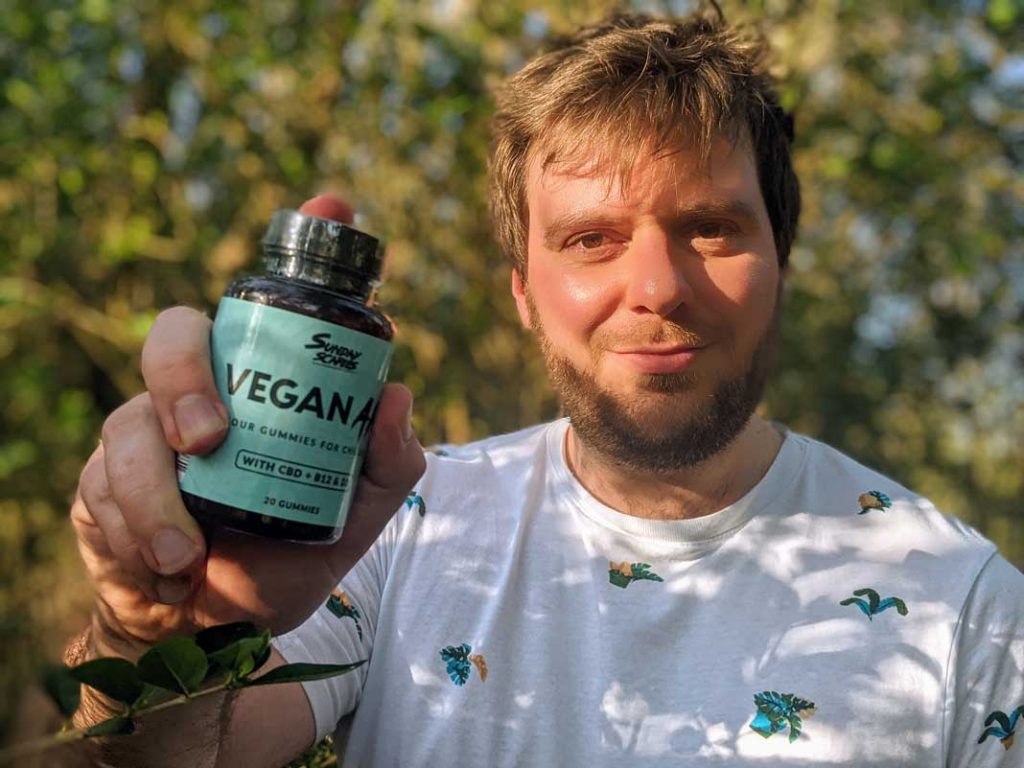 These gummies have a very unique taste compared to many of the others in the market, instead going for a sour taste rather than sweet, much like you'd expect with Haribo Fantastic.
They also contain some Vitamin B12, which I love to see, as people on a vegan diet tend to be low in Vitamin B12 and require a supplement, therefore this will tick both boxes.
Orange County CBD Gummy Worms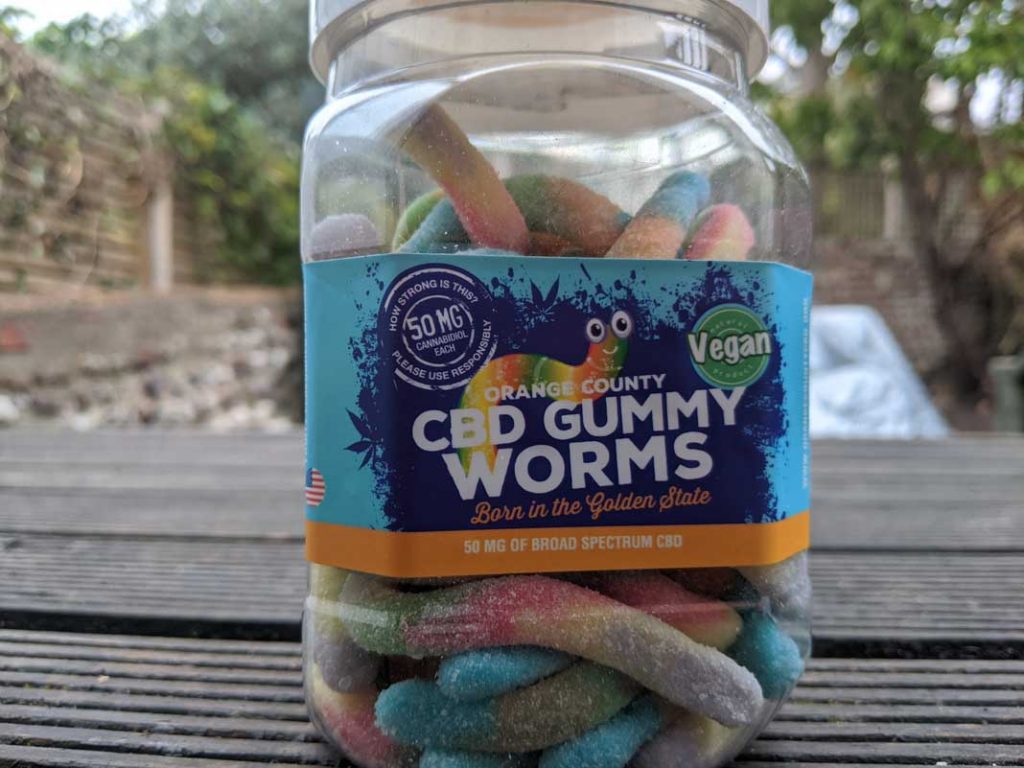 I think Orange County CBD had the first CBD gummies I ever tried which were vegan friendly, so I have to doth my cap to them.
The Liverpool based brand wins numerous awards each year for the quality of their product range and it really isn't too surprising when you try their gummy worms.
They offer their gummies in a range of shapes, but most importantly, a range of strengths, going all the way up to 50mg per worm.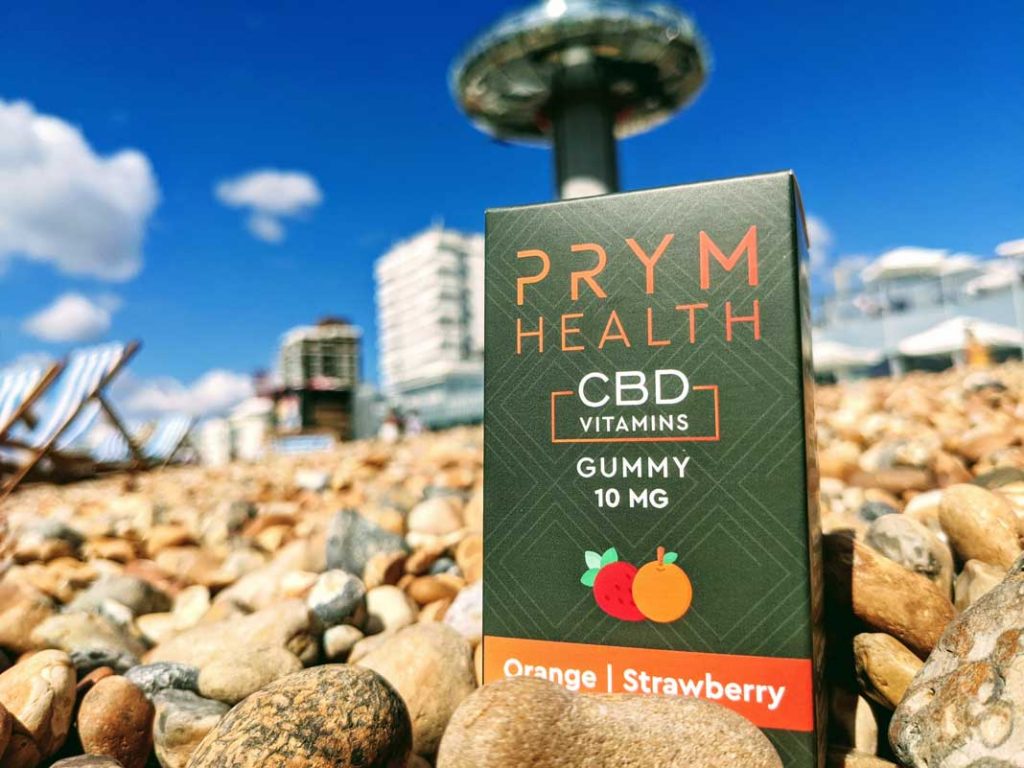 This is another brand that has opted two of the best possible flavours in strawberry and orange, tasting incredible.
They've used pectin as their gelling agent, matching with the other gummy bears highlighted above. They also contain a number of vitamins and zinc, which is important for strengthening your immune system.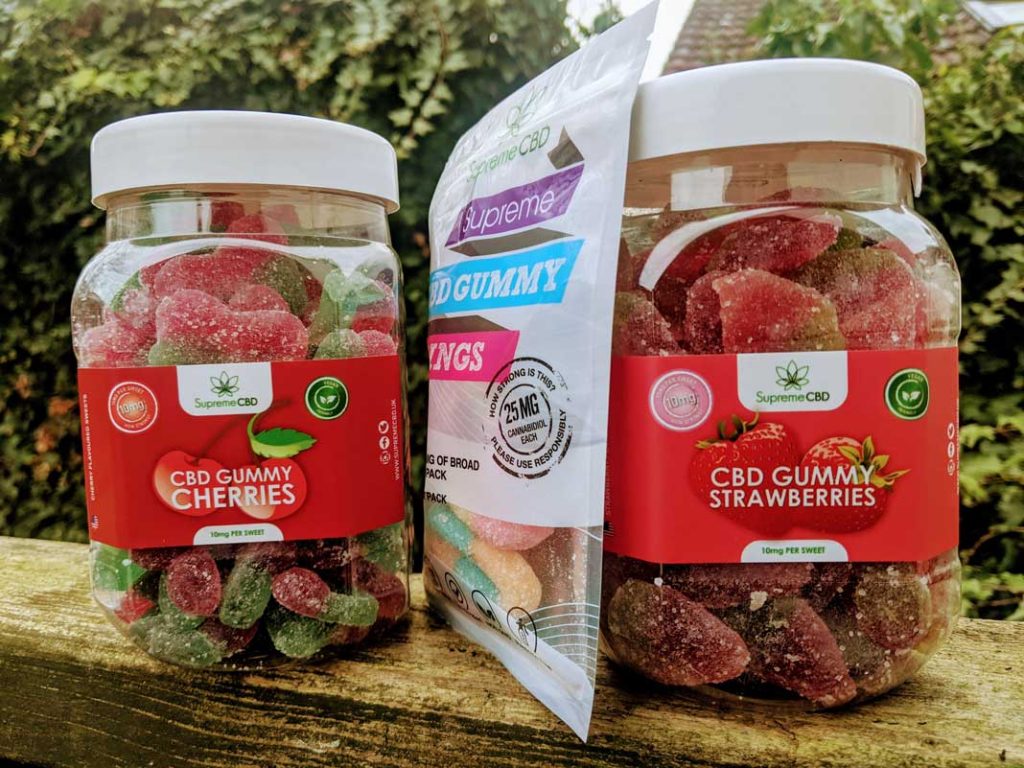 Whether you opt for their strawberries or cherries, you're guaranteed a great tasting gummy.
These come in big tubs, so you will get plenty (I admittedly didn't get them all out and count them, maybe I should have. However, you can also get smaller packs if you prefer, such as with the gummy rings.
Are The Carrier Oils Vegan Friendly?
Yes, I've not found a brand that hasn't used a vegan friendly carrier oil. These will commonly be something like hemp seed oil, MCT (derived from coconuts) or olive oil.
However, if I ever find a brand using an animal based carrier oil, I will update this article to reflect this, but I can't imagine this being the case.
What Strength Do I Get?
This is down to you, your personal tolerance levels and your reason for taking CBD.
Most gummies will have a strength of 10mg of CBD, however it can vary between 5-50mg. I'm yet to find one stronger than the Orange County CBD 50mg ones.
The reality is I like to get 40mg of CBD in a day, while if I'm taking my CBD from gummies then I might want slightly more, so I work out the amount of gummies I take based on this.
Remember the FSA doesn't recommend consuming more than 70mg of CBD in a day, so make sure not to have more than this amount in gummies.
How Long Does It Take To Feel The Effect?
This can vary between people and how recently you ate, but for me personally, I like to take them an hour in advance.
With CBD oil, I take it 45 minutes before bed, however as many of the gummies contain sugar, I tend to take these in the morning or early afternoon so I can burn off the sugar during the day.