Easily one of the most unique products I've been sent, this is a great product for a number of reasons which I'll list below. This artificial cannabis leaf design is placed onto a beautiful original and sturdy decorative frame.
What Can I Use This For?
I wanted to cover the main reasons why you might want to order yourself one of these cannabis leaf wall decors, as the number of uses jumped continuously once it arrived.
For Expo's
I'm now proudly a Media Partner for both the Europe CBD Expo and the CBD Show, so I can see myself attending a lot more expo's and conferences next year. Decorating your stand is one of the most difficult tasks in the build-up to an expo, while these will work perfectly.
Considering the substantial costs at getting a frame designed, printed and sorted, this is certainly a low cost alternative option.
Photography Backdrops
It can be difficult knowing what to use as a backdrop, while I've used up every angle in my garden for CBD oil photos, therefore this was an amazing addition. You can easily lie a CBD product down on the leaves and do a birds-eye shot, as can be seen in the image below.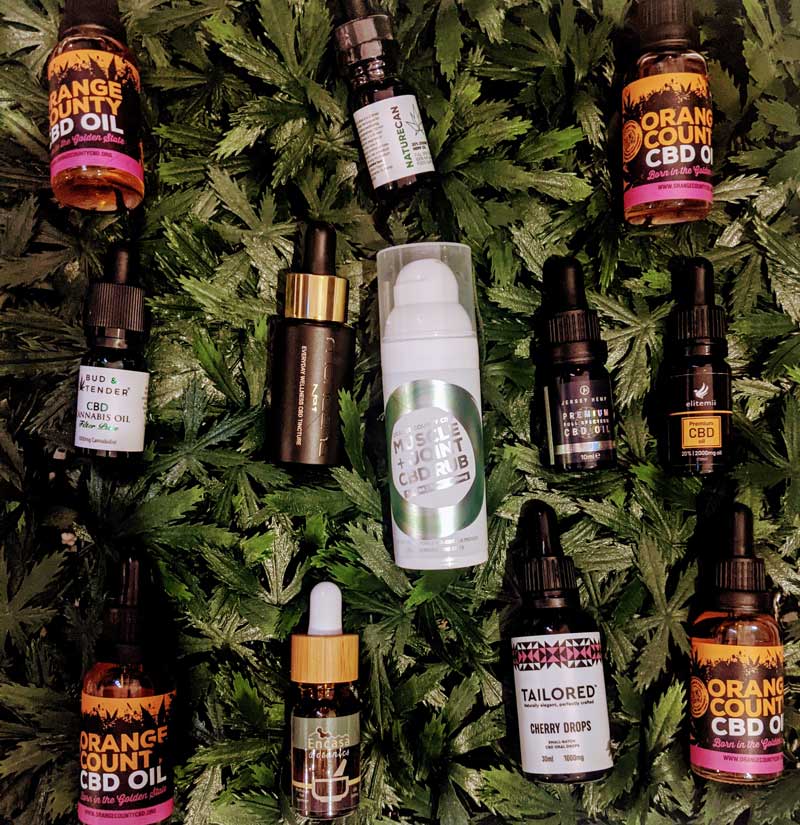 This photo was used for a competition I'm running and it works perfectly as a backdrop whether I want to use one product or a whole selection.
As the leaves come off the surface, it also means you can tuck a product between the leaves, meaning it can also be held vertically as well as flat on the ground.
General Décor
CBD has taken over my life, with CBD products in almost every corner of my house, so this frame fitted perfectly in the house on my wall. Whether placed in the bathroom or in the bedroom, I'm sure you'll be able to find a good spot for this decorative frame.
What Size Does It Come In?
There are three size options available for the dense artificial cannabis leaf backgrounds, which are 9" by 9", 16" by 16" or 20" by 20".
Can You Get Different Coloured Frames?
They offer two different coloured frames, available in either black or white. Both look great, but I think the black frame works well with the white colour just inside.
Where Can I Order This From?
You can purchase an artificial cannabis leaf wall décor from their website in a small version for £30, a medium for £45 or a large for £60. Before putting in an order, make sure to check out my reviews of the Just Be CBD Relieving Muscle Rub or acai berry CBD oral drops.
Remember to create an account on their website before making an order, so you can accumulate points after every purchase, providing you with discounts off future purchases.