This is the first of five CBD oil's I'll be testing by Tailored Wellbeing, choosing cherry drops to start with as I'm a huge fan of cherry based food products (give me a black forest gateau and I'll love you forever). The other flavours in the range are electric lemon, berry bliss, tropical daze and alpine mint. To fully test this product out, I took it once in the morning and once in the evening.
How Much CBD Do You Get?
A single bottle contains 1,000mg of CBD. The bottles are a little larger than your usual size, being 30ml, while they recommend a 1ml dosage, which would work out as 33mg of CBD per serving. I always recommend reading through a CBD certificate of analysis before making a purchase to understand what is in your product and to ensure there aren't any extra nasties from pesticides or chemical fertilisers.
As you can see from the image below, beyond CBD there is also a presence of CBG and CBC. I've written in depth about these cannabinoids and it's worth having a read to learn about their benefits. The combination of cannabinoids present will help you to benefit from the entourage effect.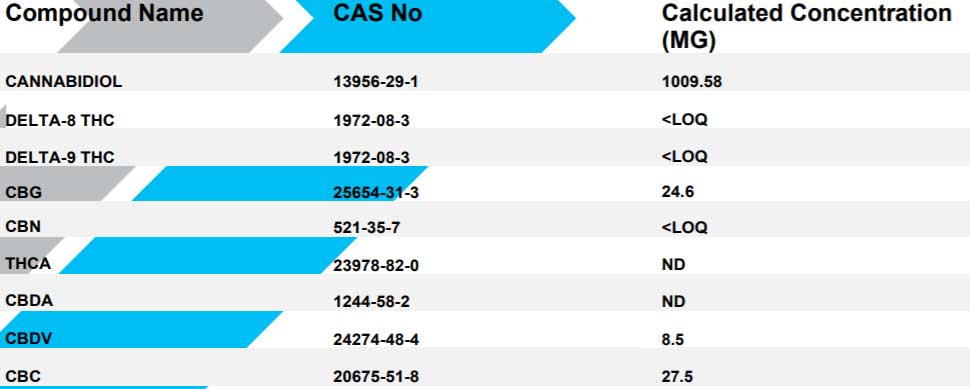 What Terpenes Are Present?
Unlike most other CBD brands, Tailored Wellbeing have posted the terpenes present in this product, which is a nice addition. I've included these below, along with some details.
Alpha-Pinene – An alkene often found in pine, it plays a critical role in reducing acetylcholinesterase activity in your brain. You can read more about it here.
Terpineol – A monoterpene alcohol with a great number of biological applications, found in natural oils.
Limonene – With anti-inflammatory properties and packed with antioxidants to fight off free radicals, limonene is a common terpene, however it can cause sensitivity on skin treatments.
Delta-3-Carene – described as equally sweet and earthy, it has an ability to remove excess fluid from the body, which is part of the reason why you get dry mouth when taking cannabis.
Humulene – A great list of potential benefits, but the most substantial is as an appetite suppressant. You'll also often find it in many beers, providing that 'hoppy taste'.
Linalool – As with many of the previously mentioned terpenes, it is well known for its antioxidant and anti-inflammatory properties, but it's also hyped for its anti-microbial properties.
Beta-Caryophyllene – Since we learned more about the endocannabinoid system, we're also understanding the way Beta-Caryophyllene responds with the CB2 receptors to offer anti-pain effects.
How Does It Taste?
When you take a CBD oil, you must place it under your tongue and hold it there for 1-2 minutes. The issue with a great tasting oil is I get tempted to move it over my tongue so I can have a proper taste, not that I'm complaining! I'm a big fan of cherry flavours, from sweets to drinks, it's the sweet tooth in me.
This is a nice change, not that I don't have a number of flavoured options, but I do tend to go for unflavoured so I can focus on the performance rather than the taste, but I was very happy to say it performed well on both areas.
Where Can I Purchase It From?
You can purchase the Tailored Wellbeing Cherry Drops from their website in either a 10ml or 30ml bottle. If you want to learn a bit more about the brand before making a purchase, make sure to have a read of their about-us page. Delivery is free on UK orders and takes 3-5 days to arrive.