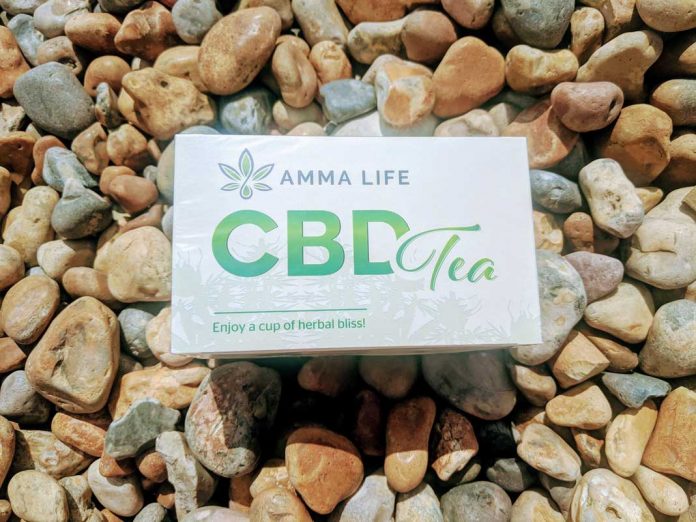 Behind CBD gummies, my favourite products to review are CBD tea and coffee as I love hot drinks and find myself constantly making an excuse to add another during my day. Over the past couple of years I've been gradually (painfully) moving towards green tea in order to be a little more healthy, so having a good cup of tea and adding CBD to my day seems ever better. Over the past couple of weeks I've been having the Amma Life CBD tea, trying at different times of the day to test it out, so I hope you enjoy my review below.
How Do I Take Them?
I wouldn't recommend having them with milk, I tried with and without (for research purposes) but it tastes much better without. The temptation to add milk was partly based on the added fatty source to help increase the absorption rate and bioavailability. Alternatively, you could add a shot of MCT oil if you like.
You just add boiling water to your cup and leave to brew for around 10 minutes. They also highlight that you can add some lemon and honey to enhance the flavour, so I gave into temptation and added honey each time. Just for the record, for anyone that does consume manuka honey, I would stick to your usual cheaper honey, as manuka honey is highly volatile at high temperatures and you will lose all those health benefits once heated up.
You can have the CBD tea at any time during the day, while many people enjoy it as a warming cuppa in the evening before bed. Personally, I enjoyed it as my second cup of the day, after my morning coffee.
Do I Need To Put Them In Tupperware After Opening?
No, unlike some other CBD tea brands, these are sealed in individually wrapped packets, meaning the quality remains high after opening the box.
How Much CBD Do You Get?
According to their third party lab test results, performed on the 16th February 2020, there was 1.2% CBD, 1.8% CBDA, 0.1% CBC, as well as trace elements of other cannabinoids. This means you can benefit from the entourage effect, with the other cannabinoids present working together to enhance results and increase the number of benefits. I've copied in the certificate of analysis below to help anyone interested in seeing the exact details.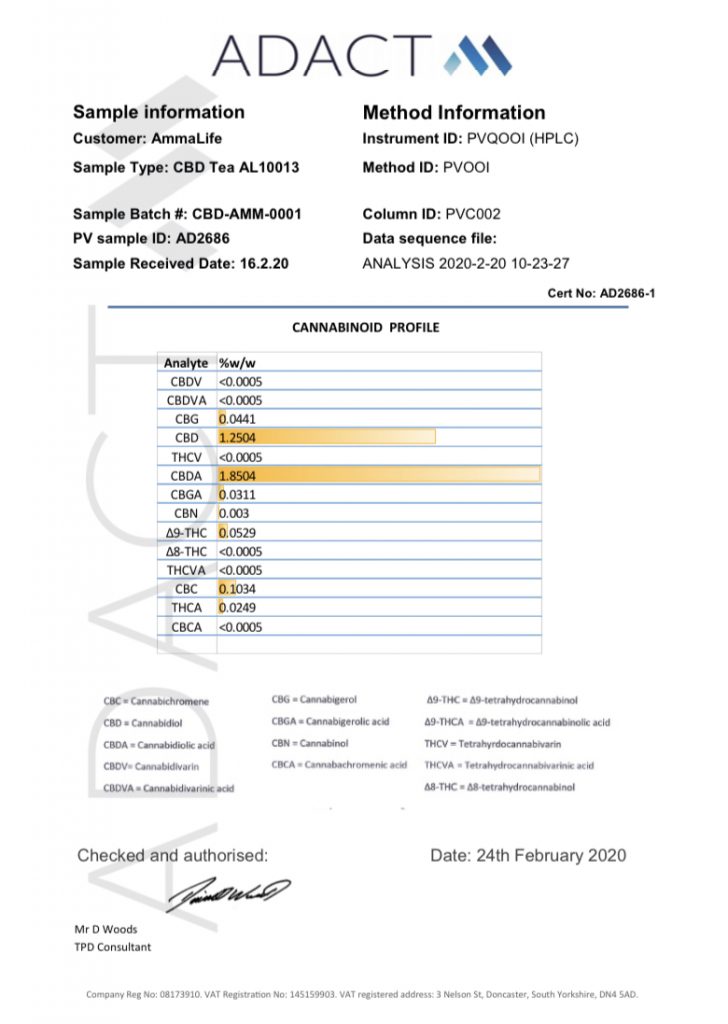 You get 20 biodegradable paper CBD tea bags in each pack, which are completely 100% natural, filled with cannabis felina 32, which is a French industrial hemp strain. Despite being a French strain, it is most commonly grown in Italy, while the flowers produce very high amounts of CBD.
How Do They Taste?
They tasted vaguely like a green tea, but with that subtle CBD aftertaste. As a comparison, the closest I could put them to was the Buddha Tea Matcha Green Tea Blend. The honey adds a nice sweet kick to it, while I still have to give added lemon a try. I definitely recommend leaving the bag to brew for as long as possible, it does make the taste a bit more stronger, but it also ensures a higher quantity of CBD present in your drink (the same trick is done with green tea, where the longer you brew it, the higher number of antioxidants present). I'll be adding this to my list of the best CBD tea available.
Where Do I Purchase These From?
The Amma Life CBD Tea bags can be purchased from their website for £12.95, a relatively cheap price compared to some CBD tea products. You might want to also consider adding the Amma Life water soluble spray to your order, to take it over the £15 fresh hold, meaning you get free delivery in the UK.