You've probably noticed the huge increase in hemp based brands introducing a CBD tea to their range, however this is the rare time when I've seen it done the opposite way, with the illustrious Morgan's Brew Tea Company launching a cannabis herbal tea, which you can also match up with their other tea's to make for some interesting combinations.
How Do You Make It?
Boil your kettle to 100c and then pour the hot water into your loose tea pot. Add two teaspoons of the cannabis herbal tea to the infuser and leave to brew for anywhere between 5-20 minutes.
If you don't know how long to brew, then you should consider the following. The longer you brew it, more likely there will be a greater presence of cannabinoids in the tea, however the taste will also be stronger, so go for 20 minutes if you can handle the stronger flavour. You should find the level that works for you, experimentation is key.
You can choose whether to add milk, personally I find the concept of adding milk to a herbal tea revolting, however you do want to have a fatty source to help increase bioavailability, so you could maybe add a shot of MCT oil, or perhaps drink a dash of milk after finishing your tea, whatever works best for you.
Of course, the hemp seeds do contain fatty acids, including omega 6 and omega 3, so this isn't an absolute necessity, but I like to make sure I provide my body with enough fat sources to ensure the greatest level of absorption.
I'll go in deeper detail below about the different flavours available, but you can also add other tea infusions to the mix in order to achieve a different taste.
What Flavours Did You Try?
I had the good fortune of combining the cannabis tea with Japanese Cherry, Cherry Rhubarb and Green Valley, all provided from the Morgan's Brew collection.
The Green Valley fruit tea contains Chinese green tea, apple pieces, hibiscus, mango, papaya, sugar, sunflower petals and flavouring.
The cherry rhubarb, as the name might suggest, contained apple and rosehip rhubarb pieces, however it also contained hibiscus, orange peel, cranberry, morello cherries and natural flavouring.
The cherry rhubarb tea was so fruity and delicious, while Geoff Meredith (the founder) made a really intriguing suggestion around combining half the tea pack with a bottle of gin and leaving to infuse for 2 weeks, something I have to give a try!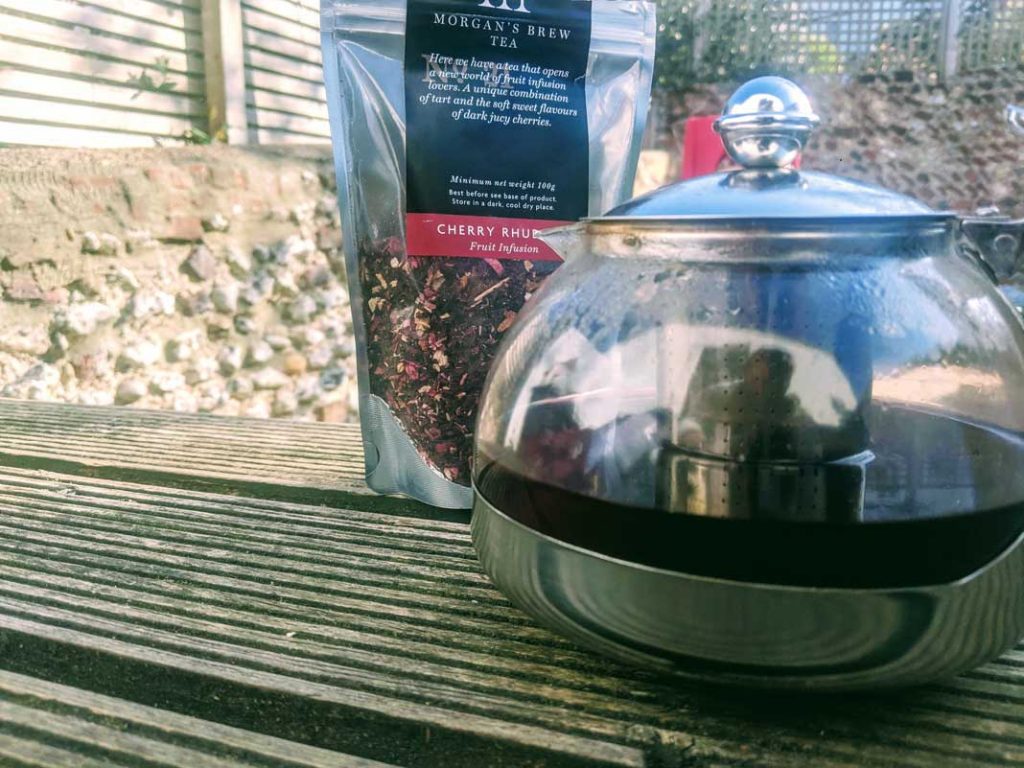 The final mix was made predominantly from Japanese green tea, along with hibiscus, rose petals, apple, rosehip peel, morello cherries and flavouring.
It should be stated that you don't have to combine the cannabis herbal tea with another tea option, it's completely fine on its own, but if you find the hemp flavour too strong then this can be a tasty and fun way to find the flavour that suits you.
Morgan's Brew has a huge range of loose tea's that are worth looking into, costing around £5-6 for 100 grams.
Is This Caffeine Free?
Yes, the hemp tea is caffeine free, so you can enjoy it in the evening before bed, the time I largely opted to take it.
However, if you did want to combine it with the other teas then you'll want to ensure they don't contain caffeine, as green tea is rich in caffeine (hence why it's a popular dieting option).
The hemp is grown in EU certified organic and environmentally responsible farms in the Baltic region, then prepared in Northampton to make the product you see before you.
Where Can I Buy This From?
You can order the Morgan's Brew cannabis Tea for £18.50 from their website in a 100 gram sealed pack. You may also want to consider adding some loose teas or tea bags to your order if you're a fan of the cuppa or you want to try different flavours combined into your hemp tea.