Today I want to review the Uncle Bud's industrial hemp 750mg pure CBD, talked about very highly in the industry and something I've been very curious about for a while. Considering the last product I reviewed (the Love CBD oil) was a spray, it was an interesting switch to a measured drop. So read on for the full review.
How Does Uncle Bud's Industrial Hemp Taste?
Uncle Bud's Maximum Strength CBD oil tastes surprisingly good. I have had some really intense flavours over the years, therefore I was getting ready with a glass of milk in the other hand, but you place it under your tongue for 30 seconds before swallowing and once I got a taste it just seemed to offer a minty flavour.
I'm personally not a big fan of mint as a flavour, with this product being flavoured with peppermint, however I've tried not to allow my personal distaste for peppermint to affect my views.
Of course, a look over at the ingredients highlights why you aren't hit by the brick wall of cannabis taste, as beyond the peppermint it also contains steviol glycosides as a sweetener.
It had a relaxing affect, taking it 30 minutes before going to sleep, but didn't work as well as some of the others I've tried, such as Montana No.1 Wellness or Orange County CBD.
How Do You Take Uncle Bud's CBD Oil?
You fill the dropper with 1ml of liquid, which is also marked so you can check and ensure you have the full amount before placing in the mouth. You then squeeze the dropper and allow the drops to sit under your tongue for sublingual consumption. The recommendations are to keep it under your tongue for 30 seconds before swallowing, however I'd recommend holding for 1-2 minutes. This allows it to absorb more efficiently and take effect sooner, while most easy to use drops will recommend the same route of action for greater absorption.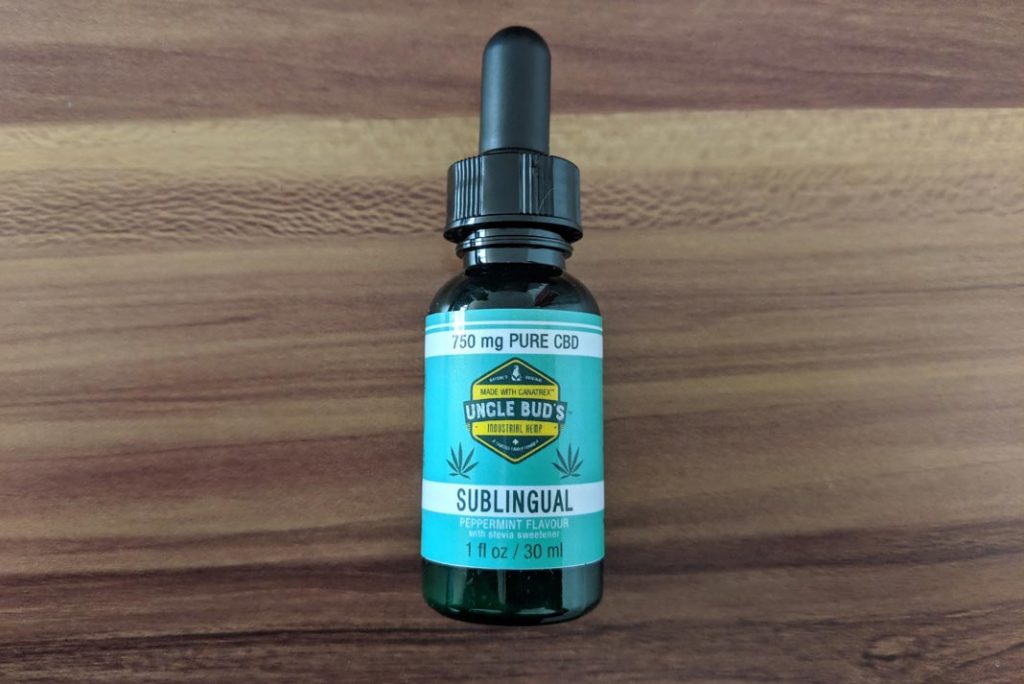 How Much CBD Is In Each Drop?
In every 1ml drop, you will get 25mg of pure CBD. This is far beyond what I have been getting in the other products I have tried recently, hence the 'maximum strength' label they have on the front of the packaging. For this reason, you might want to start off with something lighter before building up to this product, or you might want a lower dosage if you are doing this for the first time (maybe half fill the dropper).
Can I Mix It Into Other Products?
Yes you can, in fact they even highlight you might want to mix it in with your favourite foods, drinks, coffee or smoothie, protein shake or any other healthy flavourful nutrition. I however wouldn't want to, as there is always wastage with smoothies or protein shakes and I would hate to think some of it was left on the side of the glass rather than being consumed.
How Long Will One Pack Last?
If you are to take the full dosage of 1ml each day, then a single bottle should last 30 days, as it comes in a 30 ml bottle (1 fl oz).
Does The Product Contain THC?
According to their website, none of their products contain any THC, meaning it would be ok to consume if you're drug tested, however it would be better to communicate with them to ensure of this beforehand to double check if you are concerned. Either way, it is 100% under the 0.2% max allowed and cannot get you high.
Also, all of the products are thoroughly lab tested in an FDA approved facility, with the hemp sourced from the USA, while their products are also made in the USA.
How Long Is The Average Expiry Date?
These should have a best before of 1.5 years approximately. I wanted to highlight 'best before' as this is just a recommended latest date of consumption, as it should be fine after this date, but it might not be as potent as labelled, especially if already opened.
Where Can I Buy Uncle Bud's Industrial Hemp From?
The range can either be purchased from Natures Health Box if you're based in the UK, or if you're looking more further afield then you might want to try directly purchasing on their website. Of course, they also stock them in a number of CBD stores. If you're based locally to me, then you might want to have a look at my Brighton CBD store list.
I hope this review has been useful for you if you are considering purchasing any of their products. I might consider trying some more of their products soon, so keep an eye out or let me know if you'd like me to research anything in particular, I'm always eager to give something new a try! You should also check out where it scores on my list of the best CBD oil.