Slick packaging doesn't even begin to describe the next product on my list for a review, the Raised Spirit CBD coconut oil with cacao. I'm loving all of the new edible foods and drinks that are coming out containing CBD and I hope there will be plenty more to come from Raised Spirit.
How Does Raised Spirit CBD Coconut Oil with Cacao Taste?
The main challenge for all CBD brands is to actually dilute the taste of CBD, which many people find unpleasant and difficult to consume on a regular basis. While there is an undertaste of CBD, they have done amazingly at producing something that has a slight coconut flavour, with a chocolate after taste.
As they use raw cacao, it has a more 'dark chocolate' taste, which certainly appeals to me. Of course, the coconut blossom syrup certainly helps to add a nice taste to the mouth as well.
I tried Raised Spirit coconut oil in a couple of ways, firstly I had it in a smoothie, secondly on bread and third directly eating it. In the smoothie you couldn't overly taste it, therefore this helps if you just want to consume with a subtle taste. On bread, it can't really spread, so if you wanted to cover a whole slice you would need way more than the 2 teaspoons. However, as I loved the taste, I much preferred eating it direct with a spoon straight out of the jar.
What Is The Texture Like?
It is soft, much like a chocolate spread. I am pretty sure if you left it for 6-12 months then it might harden or change texture, much like many other spreads or honey. On the other hand, they do directly recommend they consume the product within 12 months of opening, therefore you should keep this in mind when considering your monthly usage of the product.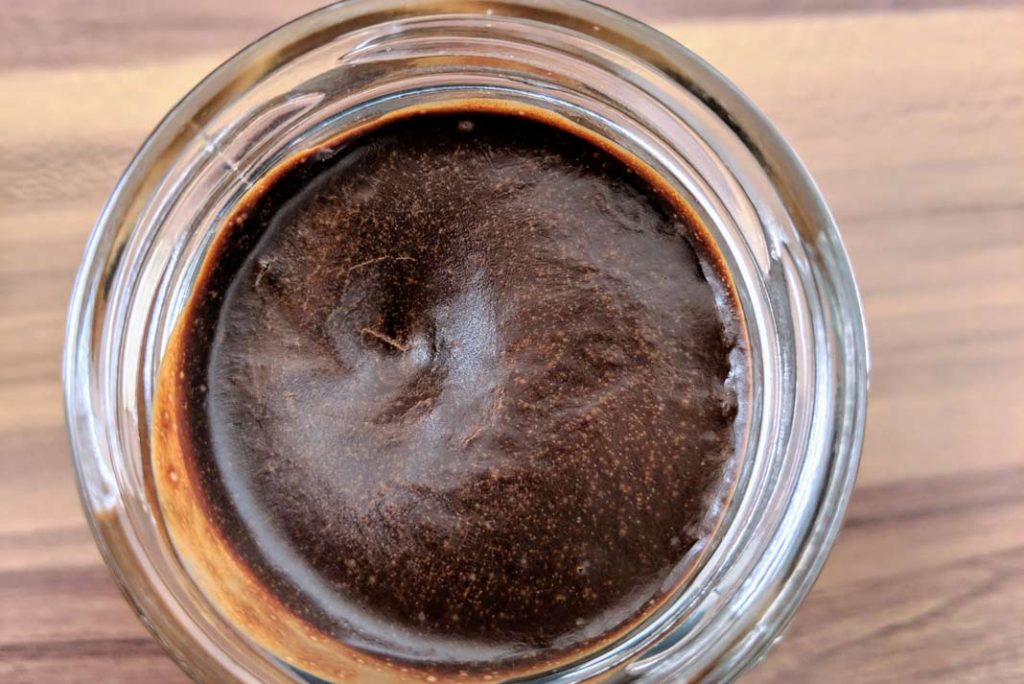 How Much Should I Consume?
They state that you should use between half and two teaspoons up to three times per day. I find the taste really nice, so I do end up going closer to the two spoons if I'm honest…Maybe 3 or 4, oops.
I'm Vegan, Can I Have Raised Spirit?
Yes you absolutely can. None of the ingredients contain anything that would break the vegan diet. It is also gluten free and dairy free. Just as an added little bonus, it's also 100% organic.
How Long Should One Tub Last?
Based on the pack size I have (196ml), there is 500mg of CBD. Each teaspoon quantitates to 14mg. Therefore, if you were to eat 2 teaspoons per day, it would last 17.8 days. Being realistic, I reckon this should last you 1-2 months, however it all depends on how much you consume and how regularly.
Obviously, if you go right for the top end, consuming 2 teaspoons, 3 times per day, then you would be limited to 6 days, however you probably don't need to be consuming it that often.
The Packaging
This isn't really a question, just a general point that I LOVE the packaging. Many CBD products come in basic packaging, looking almost rushed in design as the brands were eager to get something to market in order to make the most of the growing popularity in CBD products, but this is one where you can tell they took their time. The golden colour oozes quality and instantly paints an image of trust in your mind, I doth my cap.
Where Can I Buy Raised Spirit CBD Coconut oil With Cacao From?
The best place to purchase Raised Spirit from is directly on their website. It can also be found in a number of CBD stores dotted around the UK.
Tell Me About The Brand
Raised Spirit was launched in 2013, by former martial arts expert and coach Nick Osipczak who spotted a gap in the market for a brand of quality, organic CBD oils. Nick believes that hemp will play a critical role moving forwards in improving the way we interact with our mind, body and the planet. Outside the new variant, Raised Spirit also offers CBD GOLD Coconut Oil, CBD Oil Drops and Organic Hemp Protein Powder.