With a number of conferences and expo's over the past month, as well as running a training programme for a big company, I was very relieved to be testing out a high quality CBD oil to keep my nerves at bay.
Following on from the scrumptious CBDiablo gummies, I've now been taking a closer look at their hero product, the CBD oil. With a 4.9 (out of 5) rating on Trustpilot, CBDiablo has a strong reputation for delivering high quality products in the UK and a loyal customer base.
How Much CBD Do You Get?
The product I'm testing out contains 10% CBD in a 10ml tincture, meaning 1,000mg. If you're looking for something with a smaller budget or you're after something stronger, they do have other options, including 500mg, 1,500mg and 2,000mg.
There are a number of brands that state 'full spectrum', yet when you read the lab report, it shows a very different picture, something I have to bring up with the brand. But I'm very happy to say that the lab report for the CBDiablo CBD oil perfectly matches what I hoped to find with this 'raw & full spectrum CBD oil'.
Alongside the presence of CBD and CBDA, you will also find some CBG, CBC, CBCA, THC, CBDV, CBGA, CBDVA, THCA, CBN and CBL (written in quantity, from high to low).
It's always a huge positive to see the presence of all these cannabinoids in the end product, as you can benefit from the phenomenon known as the entourage effect, where the cannabinoids, terpenes and flavonoids work better when combined in their natural state rather than on their own.
I mentioned THC, obviously this is still below the legal THC limit to be sold in the UK, while it would be no where near enough to 'get you high'.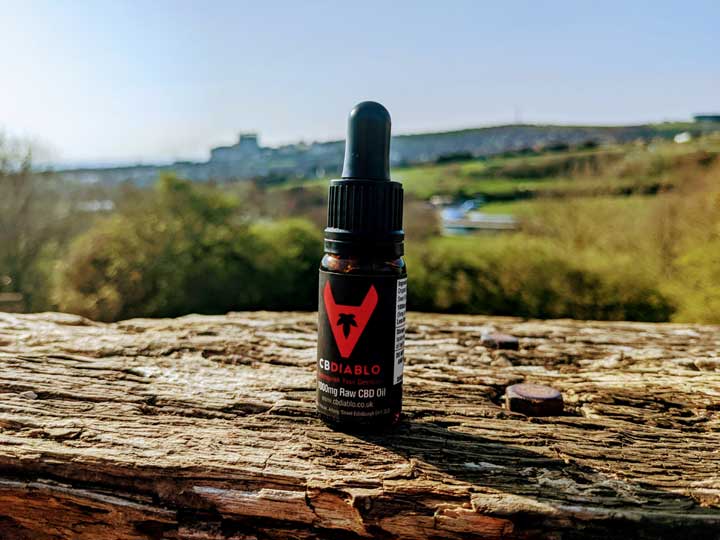 Which Carrier Oil Do They Use?
CBDiablo have opted for an organically grown hemp seed oil base, which offers a slightly different taste to MCT oil, being slightly nutty, or similar to sunflower seeds in flavour.
Many CBD brands opt for hemp seed oil as a carrier oil as it is high in essential fatty acids, while MCT oil doesn't contain any omega 3 (they both contain omega 6 and 9), while MCT oil tends to hold a greater quantity of saturated fat.
Hemp seed oil is loaded with protein, as well as vitamins, minerals and fibre, making this a nutritious option.
CBDiablo utilise completely organically grown European hemp, which is crucial to know, as hemp is highly porous and any pesticides or chemical fertilisers would cross through to the CBD oil, which is why it is imperative you only use CBD oil from organic hemp.
How Much Do You Take?
Everyone's body is different, you have to find the pertinent amount for you, start slow and build up until you reach the optimal amount.
They recommend taking 1-4 drops twice daily, while I went for one dosage an hour before bed, to help me to drift off.
A single drop would contain 5mg of CBD, while 20mg of CBD is a decent daily intake for many, therefore four drops may be perfect for most. I took 40-50mg of CBD during testing as I have a higher tolerance level as I virtually live off CBD!
Remember to hold off temptation to swallow the liquid early, you want to hold it under your tongue for 1-2 minutes, so it can be absorbed sufficiently, before swallowing the rest.
Before I found CBD oil, it used to take me 1-2 hours to fall asleep at night and the main reason I fell in love with CBD is because it helped me to drift off after 15 minutes, a huge difference to my life. I have to state that during the testing period with this product, I fell asleep even quicker than normal, only taking 5 minutes. This was over a four day testing period, but a very positive sign that I consistently drifted off quickly, happy days!
Where Can I Buy This From?
The CBDiablo 1,000mg Raw CBD Oil is available from their website for £56, which meets the minimum requirement for free delivery in the UK.