Forget Golden Dream, this is the gold standard of CBD tea if you are looking for top levels of CBD grown from reliable sources. They have also included a number of interesting ingredients, making this a great cuppa before bed. So read on for my Brothers Apothecary Golden Dream review.
How Much CBD Do You Get?
I have tried around 6 different CBD tea brands in the past month, all of which offer their own set of benefits and USP's. However, most will quote 5mg of CBD per tea bag, which seems relatively reasonable, as this is the normal single dosage, whether you're looking at teas and coffees or oils and gummies. However, the Brothers Apothecary looked at that pitiful amount and decided to go against the tide, introducing a tea with 62.7mg of CBD per serving. To say I'm impressed is an understatement!
How Many Tea Bags Do You Get In A Pack?
A single pack includes 3 tea bags. This doesn't sound like much, but when you consider how much CBD is in each bag then this is a great solution for those suffering from insomnia. Of course, considering the price and the want to get the most out of it, once you finish your cup of tea, you can try to re-brew another mug with the same bag and get any extra juice out of it. They do actually state on the website that a single bag can be used to brew 1-3 mugs, so you might as well get your moneys worth and have a few cups.
How Does It Help You Sleep?
If you want to learn more about this subject, then I suggest you read my article on CBD oil for sleep. Beyond CBD, the Golden Dream also includes chamomile, which is a popular natural remedy for insomnia, with its abundance of apigenin helping to create a calming effect in the body, allowing you to drift off to sleep easier at night.
Where Can I Buy This From?
The Golden Dream, along with the full range, can be bought from the Brothers Apothecary website. The price is around $15, which might come up higher than your normal average box of CBD tea, however this is due to the high quantity of CBD in each bag. When you add it up, it makes for a very reasonable price, if you're looking to get a high amount with your tea.
What Are The Other Ingredients?
There are a number of added ingredients which are worth mentioning. The first is spearmint leaf, which can help to reduce stress levels, which will allow you to relax and fall asleep quicker.
Other tests also showed it can help with anxiety. Orange peel is another ingredient most likely included due to its sleep benefits, considering its sedative nature, however it also adds nicely to the taste.
You'll notice a pattern here, lemongrass has been shown to induce sleep and calm stress levels. I can't say the same about blackberry leaf, but it is a healthy and nutritious addition to the mix.
Should I Add Anything To My Mug?
The drink is absolutely perfect on its own, without the need for any additions, however you can enhance the bioavailability of CBD by accompanying it with a fat source, therefore you might want to add some milk. I have MCT oil (the perfect courier oil for CBD), while this can make for quite an interesting flavour. Also, if you feel it needs sweetening up, you can add some sugar, but you might also want to check out their CBD honey.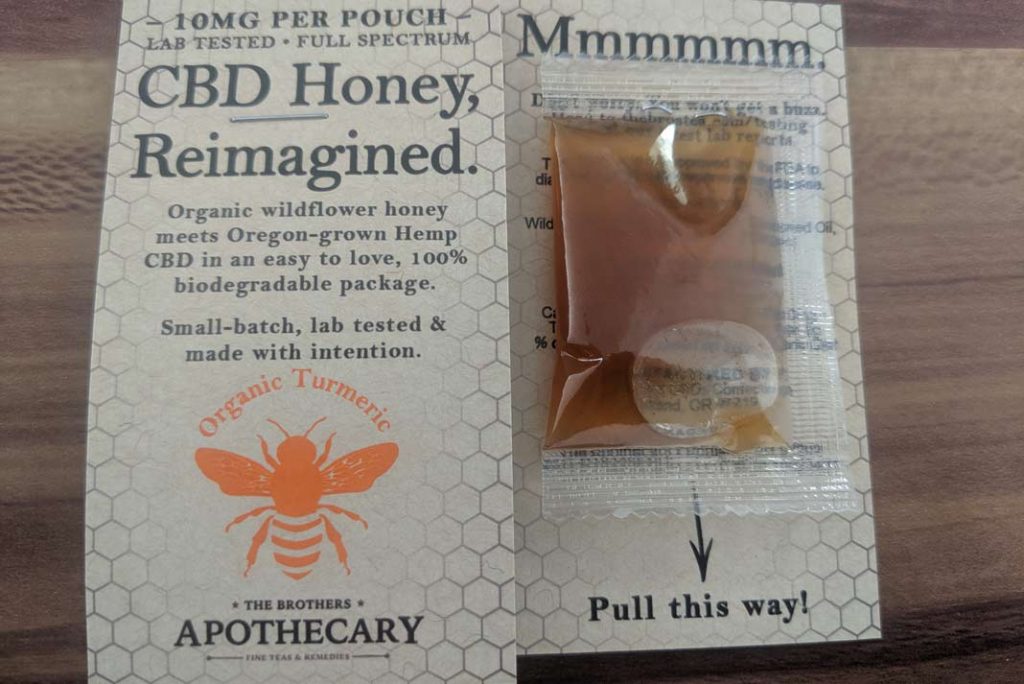 The honey is from organic wildflowers, delivered in a biodegradable package and packs a further 10mg of CBD per pouch!
Are These Lab Tested?
Yes, I always feel uneasy with any brand that seems to want to hide their lab tests or doesn't seem to have the appropriate documentation, but it is all in place with The Brothers Apothecary. Their department of agriculture license number is #AG-R1044051|HH. They have utilised Green Leaf Lab in Oregon for their tests.
How Many Calories Are In A Cup?
Each cup contains 21 calories, with 2 grams of saturated fat (2 grams of sat fat is 18 calories), while there is a gram of carbohydrate on top of that.