Cannadips started their journey back in 2016, which makes them relative veterans in this fast moving industry. Their aim was to produce a great tasting hemp based product that was free from THC, tobacco and nicotine.
How Do I Use A CBD Pouch?
You place the pouch between your inner lips and your gums. The part of your mouth you use is up to you, whether the top, bottom or side of your mouth (I generally kept it on the right side of my mouth, as it was comfy and was less noticeable).
They do recommend not moving the pouch around too much in your mouth, as I guess you could potentially burst the pouch if you were too vigorous with it.
How Long Do I Keep It In The Mouth For?
They recommend between 30-45 minutes, however they also highlight that you can keep it in your mouth for longer if you're enjoying the flavour.
During testing I opted for 30 minutes as I have a number of client calls during the day, however it was clear the flavour hadn't diminished at all by this point.
What Flavours Do They Have?
The first I tried was the American Spice, simply because I liked the red colour.
I struggled at first to put my finger on the flavour, but after a while it hit home that it was cinnamon. Taking a look at the lab report, you can also see they've added coffee flavour oil, coffee espresso extract and cocoa powder, all blending to create the American Spice flavour.
Second was the mint flavour, containing xanthan gum, spearmint oil, cornmint oil, peppermint oil and wintergreen oil. I've never been such a huge mint flavour fan, but my girlfriend is, so after testing she happily took these off of me.
Always leave the best to last, the tangy citrus flavour was 100% the greatest! The perfect combination of sweet and tangy was incredibly enjoyable.
They achieved this through adding the oils of orange, mandarin, lime and lemon, along with some natural citrus flavour.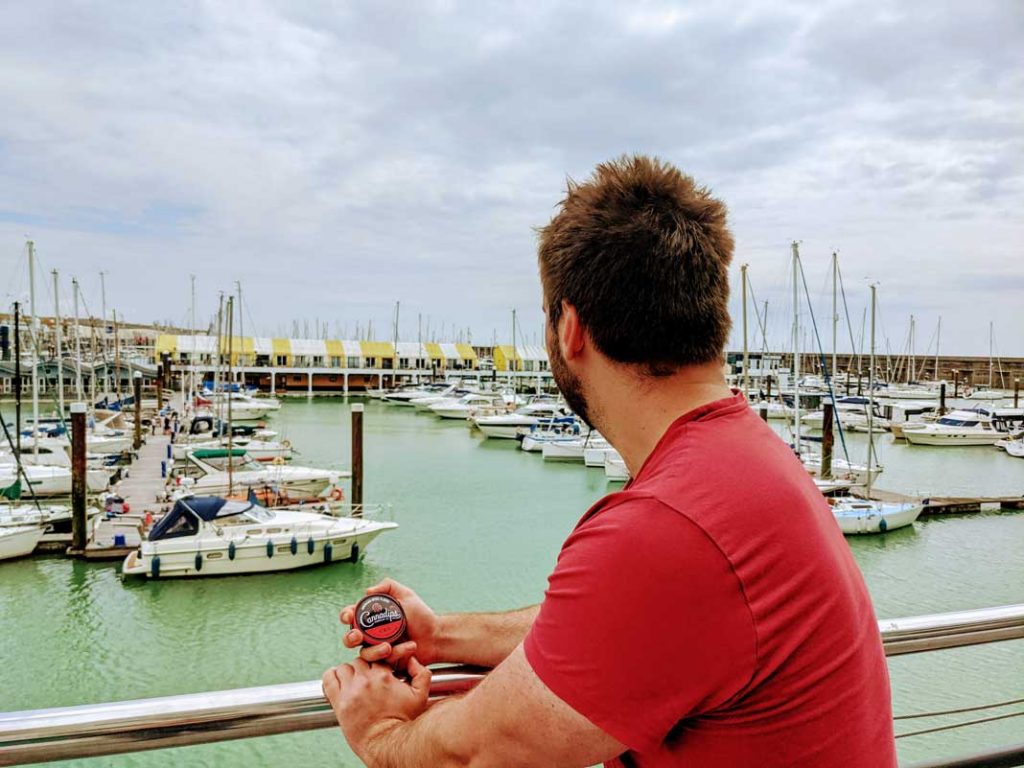 How Much CBD Do You Get?
On the back of your tin, you will find the batch code. Then when you visit their website (lab results can be easily found in the top nav), they have the certificate of analysis for each product and each batch.
Each pouch contains 10mg of CBD, along with a minor amount of CBN, making this a broad spectrum product. A full pack contains 15 pouches, meaning you get 150mg of CBD in each tin.
Realistically they offer the same cannabinoid profile regardless of the option you choose, so your choice is purely down to flavour preference.
How Do They Source Their Palm Oil?
The moment you hear palm oil, many people think negative thoughts, however it is possible for palm oil to be ethically and sustainably sourced. It comes at a higher cost, as this requires certification, but it shows corporate responsibility, which I like to see.
I'm happy to say that Cannadips only use sustainable palm oil that has been certified, while they have published the certificates of compliance on their website.
Where Can I Buy This From?
You can order yourself a separate pouch pack for €18.90, or if you're unsure what flavour you would prefer, you can order the starter kit from their website for €45.00, which is 20% cheaper than ordering the three individually.