A member of the Cannabis Trade Association and the European Industrial Hemp Association, I'm taking a closer look at ISO CBD, a company that is based right where I spent my childhood years, in Ealing.
The brands mission is to deliver the highest quality CBD isolate products to the UK market.
What Flavours Do They Offer?
You can pick the natural flavour, or there are a number of flavoured options available, including lemon, orange, vanilla and mint.
I've been sent the lemon, orange and vanilla, so I'm delighted to be trying multiple flavours.
The orange is tasty, with a subtle flavour, not too overwhelming. I'm naturally a fan of orange flavoured anything, so this is always going to be a good one for me.
The lemon was surprisingly sweet, in a very good way, I found myself wanting a bit more.
But the favourite by a mile, for both myself and Raquel (my girlfriend) was the vanilla flavour. The taste is closer to an ice cream, making me instantly hungry.
This is actually the first time I've tried a vanilla flavoured CBD oil, which is surprising considering I've tested somewhere North of 200 CBD oils.
While flavour shouldn't be the biggest factor in your decision making, the reality is that many people struggle with the taste of CBD oil, therefore if they can enjoy the process by having a great tasting option, then it makes it all easier and more pleasurable.
How Much CBD Do You Get?
The flavoured CBD oils are offered either as 500mg or 1,000mg of CBD, while the natural flavour also goes up to 2,000mg.
The lab report for each CBD oil I've received has highlighted that it has slightly over the 1,000mg highlighted on the label. It also doesn't contain any other cannabinoids, being an isolate.
You will find the batch report on the side of the packaging on the CBD oil, while they list their lab reports on their website, from the footer or directly on the product page. You can also scan the QR code on the side of the tincture to jump straight over to the lab report page.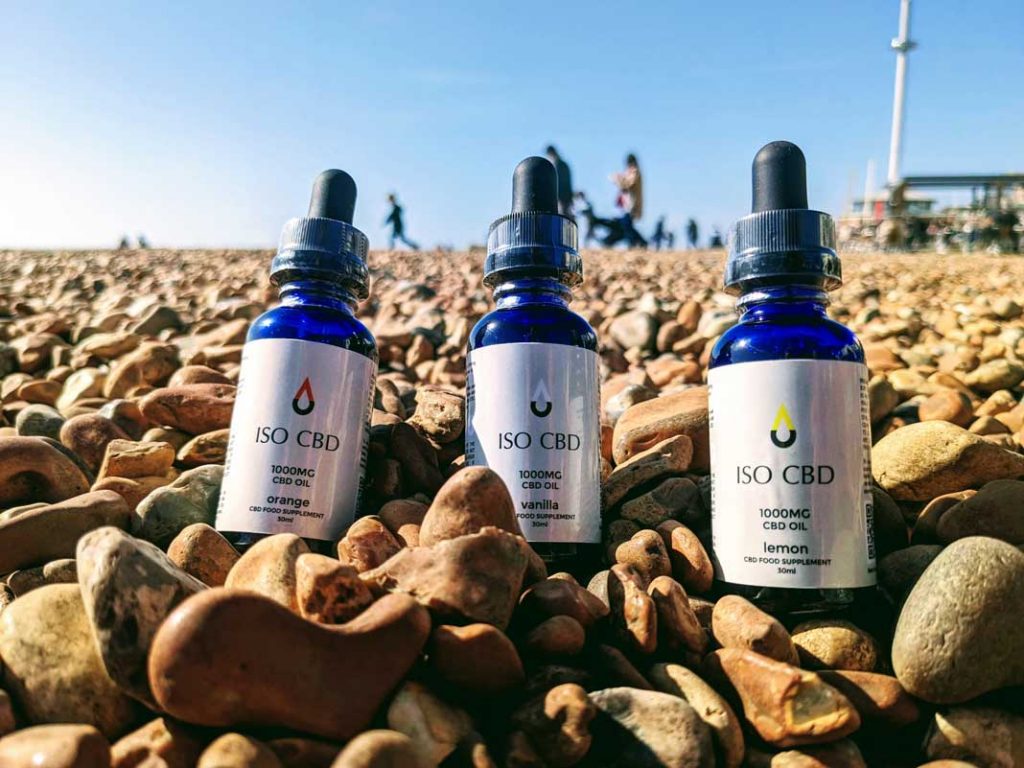 What Is An Isolate?
As you will have guessed by the brand name ISO and by their mission statement highlighted at the top of this review, the product range purely uses CBD isolate.
There are three variations you've probably heard of, full spectrum, broad spectrum and isolate. Full spectrum is the full plant extract, containing everything you'd get from the cannabis plant, including cannabinoids, terpenes and flavonoids. This will also mean a certain amount of THC.
Broad spectrum contains all of the same parts, except for THC. Isolate is a pure form of CBD, meaning it won't contain any other cannabis plant compounds.
As it's an isolate, you also won't have that strong aftertaste you get with some CBD oils which are broad or full spectrum.
How Much Should I Have?
The tinctures are all 30ml, so providing you order the 1,000mg CBD oil, this will mean a full 1ml tincture will give you 33mg of CBD.
33mg is a decent amount per day therefore you can go for a full 1ml dropper, while you can increase the amount if required or decrease it if you don't need that much as a new starter.
The FSA doesn't recommend more than 70mg of CBD in a day, which is 2.1ml of liquid from the ISO CBD oil.
What Carrier Oil Do They Use?
ISO CBD use MCT oil in all of their CBD oils. MCT, or medium chain triglycerides, help to rapidly metabolise the cannabidiol, working as a carrier oil and absorbing into the bloodstream much quicker than a longer chain fatty acid.
The main reason for choosing MCT oil is that it helps to prevent the CBD from being broken down in the digestive system, travelling straight from the gut to the liver. It's also largely recognised as the best carrier oil for CBD.
Where Can I Buy This From?
You can order the orange, vanilla or lemon flavoured 1,000mg CBD oil from their website for £36. The 500mg CBD oils are £25, so they offer a cheaper option, but you get more CBD for your money if you go for a higher strength.
For the 500mg, you get 20mg per pound (GBP), for the 1,000mg you get 27mg per pound and if you opt for the 2,000mg CBD oil, priced at £58, you get 34mg per pound.