I mentioned to my sister that I was talking to Eve Sleep regarding testing out their products and an audible gasp came from her mouth. Little did I know she is a big fan of the UK mattress and bed company, as the jealousy became palpable in the room.
The memory foam pillows are incredibly soft and thick, helping to keep your neck and spine aligned, while assisting you in having a good night's sleep. The bedding is cosy and stylish, while we also seem to have a shared mascot in the sloth!
I've been taking a closer look at their newly launched 'sleep gift' section, as they've now entered the CBD world, being the first bed brand that I've heard of to do so.
What Strength Do They Offer?
Forget the lower end products, Eve Sleep have gone right to full strength in order to ensure a good night's sleep for you. They have either a 2,000mg or a 3,000mg CBD oil.
The 2,000mg CBD oil can be bought in either a 10ml or a 30ml bottle, whereas the 3,000mg CBD oil only comes in a 30ml bottle.
This is important to know when it comes to working out dosages. For example, a 0.5ml drop of a 2,000mg CBD oil in a 30ml bottle would provide you with 33mg of CBD, whereas in a 10ml bottle, it would provide you with 100mg of CBD, as it is higher concentrated.
The FSA recommends no more than 70mg of CBD in a day. For most starters, around 20mg of CBD is normally the targeted amount, whereas I tend to go for 40-50mg of CBD as my ideal 'sweet spot', but I have a higher tolerance level than many others.
Eve Sleep recommend a quarter of a pipette per day of the 3,000mg 30ml tincture, which would provide you with 25mg of CBD. If you're not finding you're getting the results you're after, they then recommend increasing your dosage after 5-6 days usage.
Along with the CBD, both lab tests highlight that you'll also get a small amount of CBDV present in the tincture.
Two Options
They offer two different CBD oils on their website, being either ginkgo biloba and ginseng, or camomile and passionflower.
Both come in the same sizes and offer the identical amount of cannabidiol, therefore it is purely down to what other ingredients you would like included with your CBD.
What Carrier Oil Do They Use?
The carrier oil is the main ingredient, making up 69/59% of the formula (depending on the size you pick), helping to carry the CBD into the bloodstream and ensure a greater level of bioavailability.
EveSleep have opted for coconut MCT oil in both CBD oils, as this has the strongest reputation currently as the ideal carrier oil for CBD.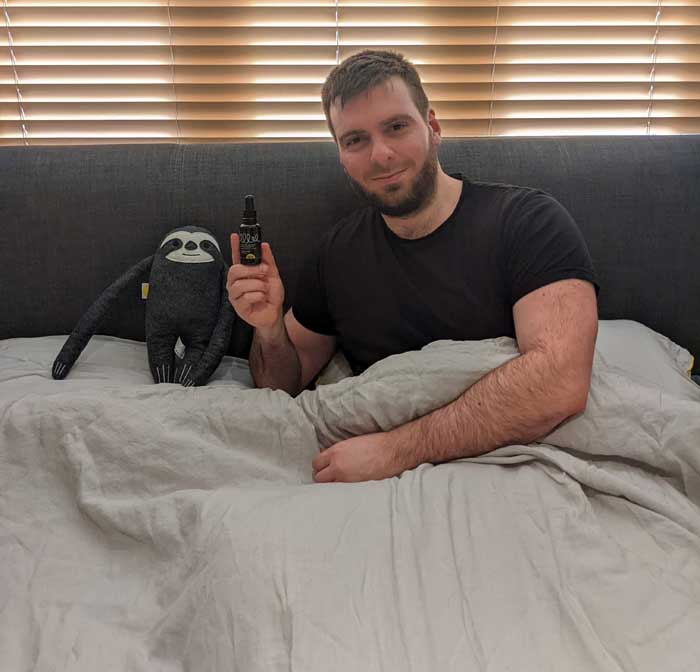 Why Choose The Ginkgo Biloba & Ginseng CBD Oil?
Ginkgo biloba is commonly grown in China, a large tree with fan shaped leaves. which are extracted and utilised as one of the top selling supplements in the UK nowadays.
The herb is packed full of antioxidants, helping to fight off free radicals, as well as helping to enhance brain health.
But the main reason for its inclusion is that it has been shown to help reduce stress and enhance relaxation, which in turn should help you to sleep better at night.
Ginkgo biloba has been shown in studies to take up to 6 weeks before people saw strong results, so it is important to stick to your daily dosage in order to see enhanced results over time.
The other key ingredient, ginseng extract, has been shown in a number of studies to reduce the total wake time and increase sleep efficiency.
Ginseng has also been shown to help the body adapt to fatigue and overwork, something many of us struggle with thanks to our busy work and life schedule.
Why Choose The Camomile & Passionflower CBD Oil?
When people think of natural sleep remedies, the majority of people will probably firs thinik of camomile tea.
I used to drink it back in the day a couple of hours before bed, with studies showing it can help to improve sleep quality and relax your mind.
But perhaps the less well known ingredient passionflower might leave a few Googling the benefits.
Passionflower can increase GABA in the brain, or gamma-aminobutyric acid (quite a mouthful), which will reduce mental and physical stress you may be suffering from, as well as inducing sleep and helping you to feel calm.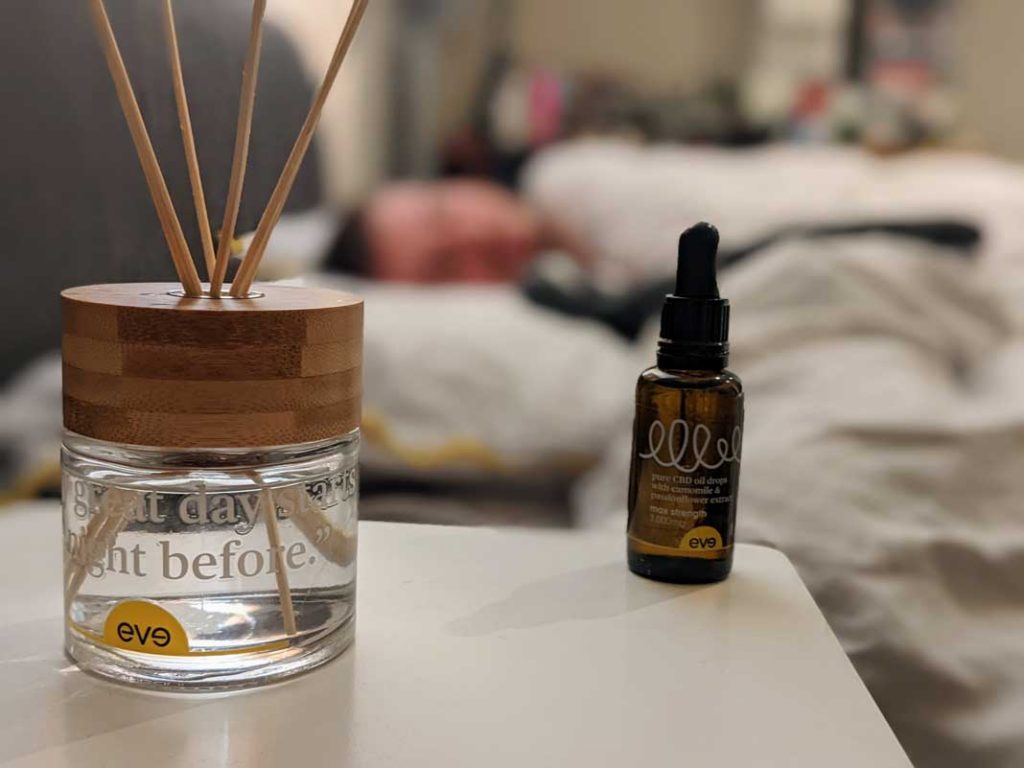 When Should I Take It?
I personally take CBD oil to help me sleep and I have found 45 minutes before bed is the ideal time. Ingredients like ginkgo biloba also tend to take 30-60 minutes to work, so 45 minutes does work ideally with the other ingredients.
The Taste
Many people find full spectrum or broad spectrum CBD oil to have a strong taste (I quite like it, but that's just me), which is why we have seen such a growth in flavoured CBD oils and gummies.
However, they have opted for CBD isolate, meaning it won't contain the terpenes that create this strong flavour.
The addition of the other ingredients adds a little flavour to the mix, while I actually quite liked the taste of the gingko biloba & ginseng extract, it tasted a little sweet and floral.
Where Can I Buy This From?
You can order both the camomile & passionflower extract and the ginkgo biloba & ginseng extract CBD oil's from the Eve Sleep website for £49 for the 2,000mg 10ml tincture, £69 for the 30ml tincture and £89 for the 3,000mg 30ml tincture.
These prices are highly competitive, so I have to admit that seems to be a great price in comparison to most you'll find in the UK market.