I'm delighted to be testing out a CBD isolate oil by a Lincolnshire based brand in CBD Guru, one I have been aware of for a while via Instagram.
A high strength product with a great taste, this one certainly lived up to expectations, but read on for my full review.
How Strong Is It?
As you may have guessed by the title, 50% is a lot more potent than most of the products I'm sent.
Being in a 10ml dropper, that means you will get 5,000mg of CBD in each bottle. The average CBD oil you will find on the shelves will either contain 500mg, 1,000mg, 1,500mg or 2,000mg, so this is certainly at the top end.
In fact, this is the second strongest CBD oil I've ever tried, which is saying something, considering I've tried somewhere North of 200 different oils. The lab report even came back slightly higher than the reported 5,000mg, which I'm certainly not complaining about.
Of course, if you don't require something this strong, they have different options, including 250mg, 500mg, 1,000mg, 2,000mg, 3,000mg and 4,000mg of CBD.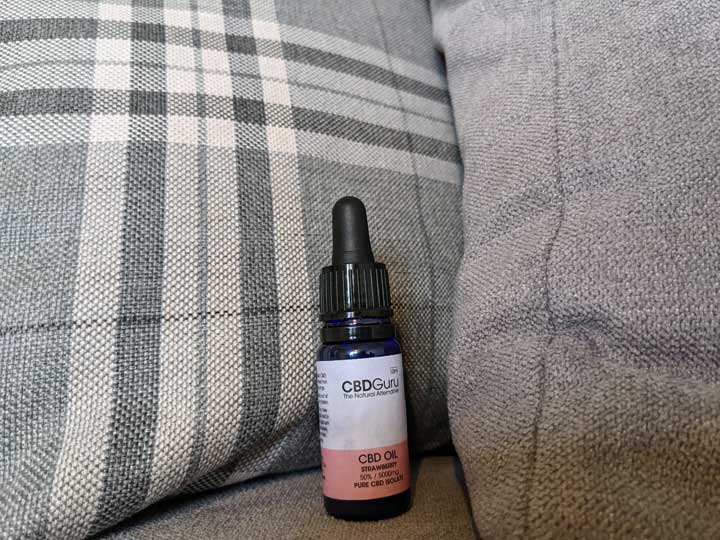 How Much Do You Take?
It depends on your personal situation, many people start on 20mg of CBD, while I tend to take around double that due to a higher tolerance level. Of course, if you're buying a 5,000mg CBD oil, you may potentially have greater requirements.
If I was to have a 1,000mg tincture in a 10ml bottle, I could take 0.5ml poured straight into my mouth and held under the tongue, providing me with 50mg of CBD. However, considering this is very high strength, you will have to count single drops as they land in your mouth.
To offer you a comparison, 0.5ml of this would provide you with 250mg, while the FSA doesn't recommend going over 70ml of CBD in a day.
So let's do some quick maths. 5,000mg divided by 10ml equals 500mg per ml. Then each drop should be approximately 0.05ml, so 500 x 0.05 = 25mg of CBD.
That's right, 25mg of CBD in every little drop! Quite a hefty amount. You could either take your required dosage at one time, or you could potentially take a couple of drops at different times of the day, depending on your reasons for taking them, e.g. one in the morning to relax you and then another one hour before bed.
What Is The Flavour?
There are two different options with the 5,000mg isolate, which is natural or strawberry. If you instead went for the 1,000mg CBD oil (the most commonly purchased strength), the flavours they have available are citrus, fresh mint, mixed berry, natural, orange and strawberry.
I nearly always opt for a natural flavour when given the choice, but many people struggle with the taste of CBD oil, however it should be highlighted that this is an isolate, meaning you won't have the strong taste sometimes found with a broad or full spectrum CBD oil.
However, I have to admit that I love strawberry flavoured anything, so when I saw this was available, I couldn't help the kid in me come out as I got eagerly excited to try the strawberry taste.
It was as good as it sounded, sweet but not too sweet, however being a mere couple of drops, I couldn't get the full taste. It was very tempting to be a bit naughty and keep free pouring, but of course I didn't (my fingers aren't crossed, I promise).
How Long Will This Last?
Considering you're only taking 1-2 drops each time, a single bottle will last a considerable amount of time compared to your average strength CBD tincture.
The expiry date on the bottle I've ordered is just over 18 months, which is what I like to see, so it's well within date. This might be a best-before date, but from my past experience, they do tend to taste a bit funky when you get close to that date, so you always want to arrive with at least a year until it expires.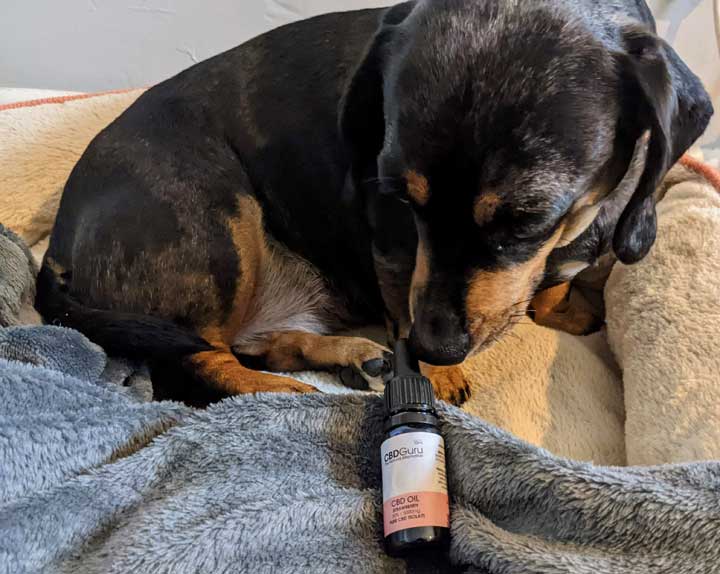 Who Are CBD Guru?
CBD Guru owner Neil Mumby started the company in 2018 from his bedroom with a budget of £800, while the company progressed from a simple kitchen to a 6,000 square foot manufacturing facility.
Neil started the company to provide premium CBD products to those around him. The company has progressed to the extent that amazon has reached out to them for a partnership where they purchase their products on a weekly basis to sell, becoming their number one buyer.
Neil is proud that he always has a deal on both of the websites. They also provide white label products to other businesses, whether they're big or small.
Where Can I Buy This From?
You can order the CBD Guru 50% Isolate Oil for £110 from their website. I have to admit, the prices are definitely dropping over time, which is nice to see, because back in 2019 this is what you would have paid for a 1,500mg CBD isolate.
Make sure to check out their special offers they might have available on their website.