Over the past week I've been testing out another product by Reakiro. If you haven't had a chance, make sure to have a read of my review of the Reakiro CBD oil.
This time, I've been focusing on their hemp capsules, not an area I review too often so a bit of a more unique experience to my usual focus.
How Strong Were They?
The pack I have provides 1,500mg of CBD per container, while the container has 30 soft gel capsules. This means you will get approximately 50mg of CBD per capsule.
You will also find a small amount of other cannabinoids present, such as CBG, CBDV and CBC.
With the FSA recommending no more than 70mg of cannabidiol per day, one capsule will provide a perfect single dosage. This is on the higher end compared to the average consumers intake (normally around 20-25mg), meaning this is a great amount if you want a bigger dose or you have built up a tolerance over time. It's exactly the amount I like to take each day.
Of course, if you want something with a bit less in, potentially so you can split your doses and have a couple of capsules per day, they have a number of different strength capsules on their website to suit your personal requirements and budget.
Signed, Sealed, Delivered, I'm yours!
Packaging isn't always something I include in a review, as often it's a little samey, but occasionally I feel the need to highlight when one stands out a little.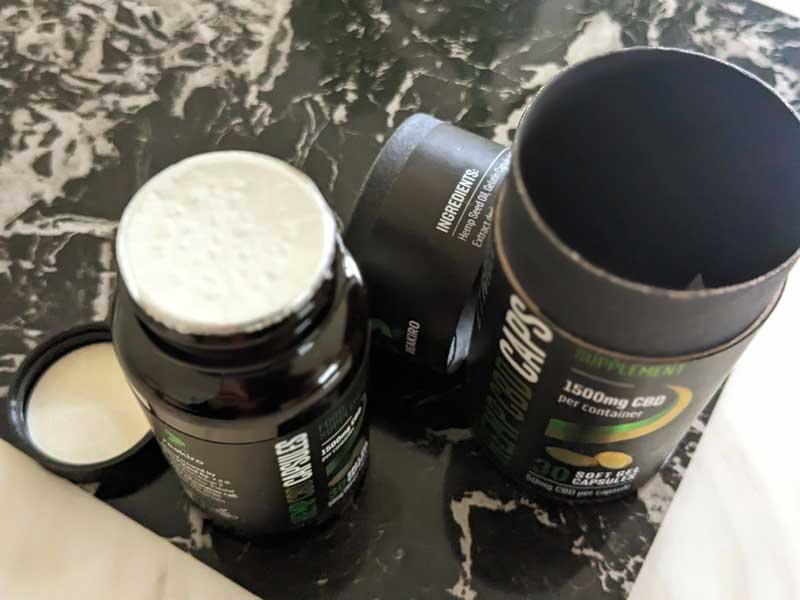 Just like with the CBD oil, the capsules came in an extra supportive layer to make sure no damage is done through transit. After opening the outer packaging and the inner lid on the container inside, there is also a protective lining you have to break, stopping the capsules from going everywhere if the lid came off.
Considering the significant cost of these items, not to mention how hard hemp oil is to clean up, I'm always appreciative when proper protective packaging is provided.
How Were They To Take?
I'll be honest, I'm terrible at swallowing capsules, so I always feel a little apprehensive when I have to test out capsules or tablets, but I brushed that aside and went ahead with the testing for the week. I knocked it back with some yogurt and surprisingly didn't have any issues getting it down.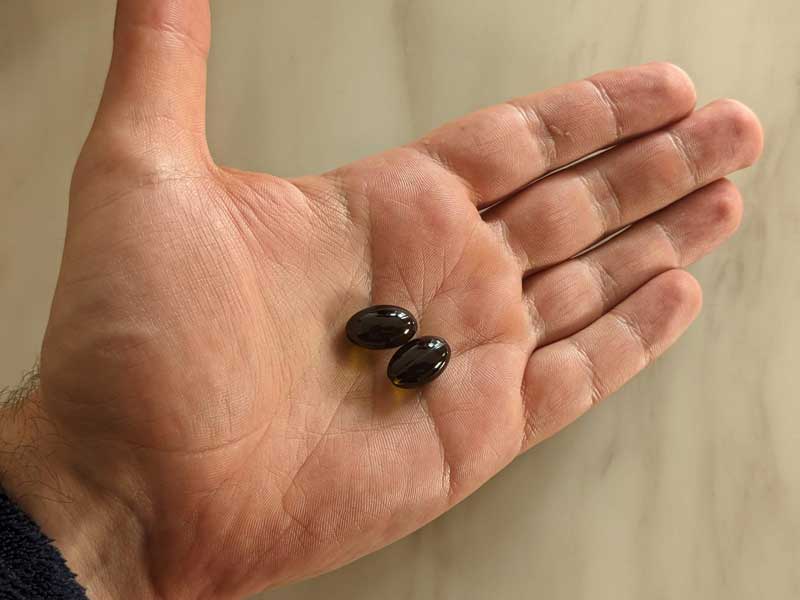 So there are two important factors with taking capsules, size and material. The size was the length of your finger nail (well, my finger nail, I've no idea how long your finger nails are). To be more precise, the length was 1.5mm, while the width was 0.75mm.
Regarding the material, it's a soft gel made from gelatine, making it easier to swallow. Of course, being gelatine, it is worth highlighting that this isn't vegetarian/vegan friendly, as with most capsules.
Gelatine is tasteless, gluten free, while they're an ideal material for a capsule to hold liquid.
Why Choose A Capsule?
For those that don't mind swallowing capsules, this is a great solution, as you can get a precise dosage of CBD without second guessing how many drops landed in your mouth.
Another factor why some people opt for capsules over oil is that the taste of CBD oil is off-putting for many. I personally love it, but I know I'm in the minority. For those that struggle with the taste, they will often opt for a gummy or a capsule, but gummies come with added calories and sugar.
Also, if you prefer to know that you will have the exact amount required for a set period of time then this is very simple, as the 30 day supply covers you for a set month.
Where Can I Buy This From?
The 1,500mg 30pc Reakiro hemp CBD Soft Gel Capsules are available from their website for £59.99. However, at the time of writing, they're offering a deal for buy one get on free, so technically it's half that price for a single pack.
If you pick up a pack yourself, let me know your experience, I'm always delighted to hear personal stories around CBD!