Last week I was lucky enough to try out the Energise daily tablets by CB.Do, while now I'm moving on to the second product I have by this intriguing brand, the Daily Rest.
Using CO2 extracted hemp and then micro-encapsulated in a water soluble powder, these are certainly a product that stands out in the crowd.
Why Are These Labelled As 'Rest'?
The names of each product highlight the main benefit they're aimed to focus on, with the ingredients chosen specifically to help with this factor.
Last weeks Energise had caffeine and maca root amongst the list of ingredients, perfectly selected to give you that boost of energy.
The Rest daily tablets are, as you can imagine, formulated to help you rest and sleep better at night.
Some of these rest-inducing ingredients include magnesium, chamomile and lemon balm, as well as the key ingredient CBD.
Why Include Magnesium?
Back in the day I used to be obsessed with weight training. I bought every supplement and followed all of the professional bodybuilders, as I was fascinated by nutrition and training.
One of the key things I learned was that you don't build muscles in the gym, you break down the muscle fibres in the gym and you repair them while you sleep, hence why having a good night's sleep is so important with training.
This is why virtually every bodybuilder takes ZMA supplements, zinc to boost your immune health and reduce inflammation, with the magnesium ideal to help you sleep better at night.
Magnesium takes centre stage in a number of sleep enhancing products, which is why I was very happy to see it included in these tablets.
A single CB.Do Rest tablet contains 75mg of magnesium, while the recommended daily allowance is 300mg for men and 270mg for women.
This means that I'm getting 25% of my recommended daily intake just from this little tablet, while I will get the rest from leafy vegetables, nuts and beans.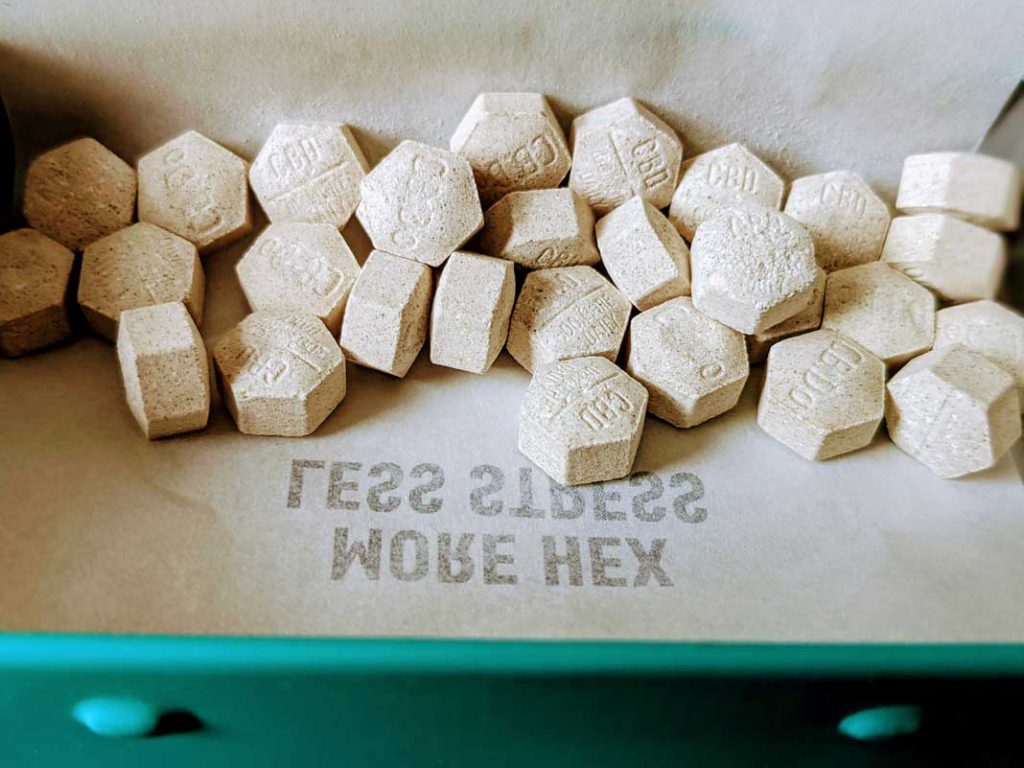 Why Include Lemon Balm?
Lemon Balm, or Melissa Officinalis extract as it is properly known, can help to relieve stress, meaning you should be able to clear your mind and fall asleep easier at night.
Lemon Balm is also commonly used as a herbal remedy to ease anxiety and to treat insomnia. As a little added bonus, lemon balm can also help with digestive issues.
When you bite into the tablet, you'll very quickly pick up on the lemony fragrance which the lemon balm provides.
Why Include Chamomile?
Chamomile is arguably the most common herbal tea utilised to help improve sleep. I used to love having a warm cup of chamomile tea an hour before bed, reducing any stress or anxiety I may have and allowing me to drift off easily.
There are a number of additional benefits to chamomile, such as its ability to boost your immune system and its anti-inflammatory properties.
Why Include L-Theanine?
L-theanine is an amino acid, which are the building blocks of protein, while you tend to find it in relatively higher rates in certain fungal species or in particular plants.
L-theanine has become an increasingly popular supplement, taken either as a pill or in a herbal tea, while it has a long list of benefits, including its ability to help improve mental focus and to increase cognitive performance.
But the main reason l-theanine has been included in the list of ingredients by CB.Do is due to a number of studies showing that supplementation of l-theanine can help you to fall asleep quicker and improve your sleep quality.
How Long Will A Pack Last?
I took one per day during testing, around 1 hour before bed, providing me with 30mg of CBD per day.
As there are 30 in a pack, this was a month's worth of CBD tablets, however you can also spend a bit extra and get the 60 pack.
In regards to the expiry date, the pack I have has a best before date for 15 months away from now.
Where Can I Order A Pack From?
You can order the Premium Infused CBD CB.Do Do More Daily Rest tablets from their website for £45, or £60 for the size up.