From green tea to English breakfast, I've slowly been going through all the various CBD tea options, however I'm now venturing into a new area with Spiced Chai. I'm a big fan of chai tea, drinking it every December as the cinnamon flavour always makes me feel festive. Today I'm looking at the Colorado based CBD brand Sky & Wyatt, who also stock a green tea hibiscus and a peppermint chamomile.
How Much CBD Do You Get?
A hell of a lot! I'm used to the various CBD tea's providing between 5-15mg of CBD per bag, however these are much higher, alongside the likes of Brothers Apothecary. Each tin contains 12 bags, while each bag has 50mg of CBD, so a whole tin contains 600mg of CBD.
When Should I Take This?
The tea does contain caffeine; therefore, I wouldn't recommend having this in the final 6-8 hours before you go to bed. I had one each morning first thing as I woke up as a nice boost before starting work.
It does state you should steep for 2-4 minutes for perfect results, however I allowed it to steep for 8-10 minutes, to ensure I got the most CBD content from my tea (this works with increasing antioxidant quantity with green tea), however it will mean the taste is slightly stronger.
What Is Contained In Each Mug?
As you would expect with a chai tea, the presence of ginger and cinnamon is paramount. However it did taste quite different to other chai tea's I've had in the past, most likely due to the presence of nettle and peppercorn. Alongside these ingredients, you will also find Pu'er tea, CBD hemp flower, fennel and sarsaparilla.
Pu-er tea is traditionally produced in China and has a number of cases made for it as an even healthier version of tea than green tea! It has also long been known to help ease anxiety, amongst its list of benefits.
I also wanted to quickly highlight that this is a vegan friendly tea, it's completely gluten free, uses non-GMO crops and uses all natural ingredients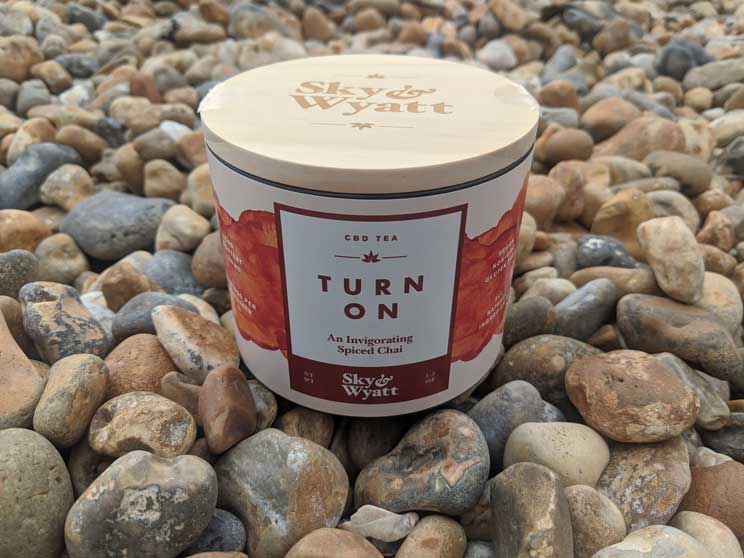 How Do I Make It?
As previously stated, you're meant to steep for 2-4 minutes, but it depends on how you like it and whether you can handle a stronger taste, as I prefer to steep for a bit longer.
You should add a fatty source to help increase absorption rate. For many, a drop of milk is normally the perfect option, however I actually found I preferred the taste without milk. I therefore added a drop of MCT oil, which I always have plenty of as an addition to plenty of my CBD products. You can read my article on the best carrier oil for CBD oil's in case you want to learn more about this subject.
It also states you can enjoy your tea hot or cold over ice, but, come on, I'm English, it's hot or nothing at all. Nothing beats a warm brew.
Where Can I Buy the Spiced Chai From?
You can purchase the Sky & Wyatt CBD Tea Turn On Invigorating Spiced Chai from their website for $34.99, or alternatively you could choose a 10 sachet box or a single serving sachet.