It has been a while since I got the opportunity to review a hemp tea, so this was very much a welcome change. This is one of three hemp tea options by Restore Me CBD, as they also offer a Balancing Tea with chamomile and orange, as well as a Yin Yang tea.
What's Included In This Tea?
The main ingredients you will find in this tea are hemp, mauve and calendula. You can get this as either a 25 gram or 50 gram bag.
The hemp contains a number of cannabinoids, including CBD, CBDA, CBN, THC (in minor amounts, so no, you won't be getting high) and THCA.
Why Include Mauve?
Mauve are those purple flowers you may find in the English countryside (for those people who have been increasing their walks recently).
The flower and leaf has often been used as an alternative medicine, predominantly to treat dry coughs and bronchitis. Considering I suffered from bronchitis when I was a teenager, this would certainly have been useful!
Mauve has also been used throughout history to treat wounds, applied directly to the skin or added to a bath.
Restore Me CBD highlight on the packaging that 'mauve contains flavonoids, essential oils and vitamin C to help balance and unblock your meridians'. If you've not heard of meridians before, they're a concept from traditional Chinese medicine, being a pathway for a flow of energy through the body, 'working as pathways for qi'.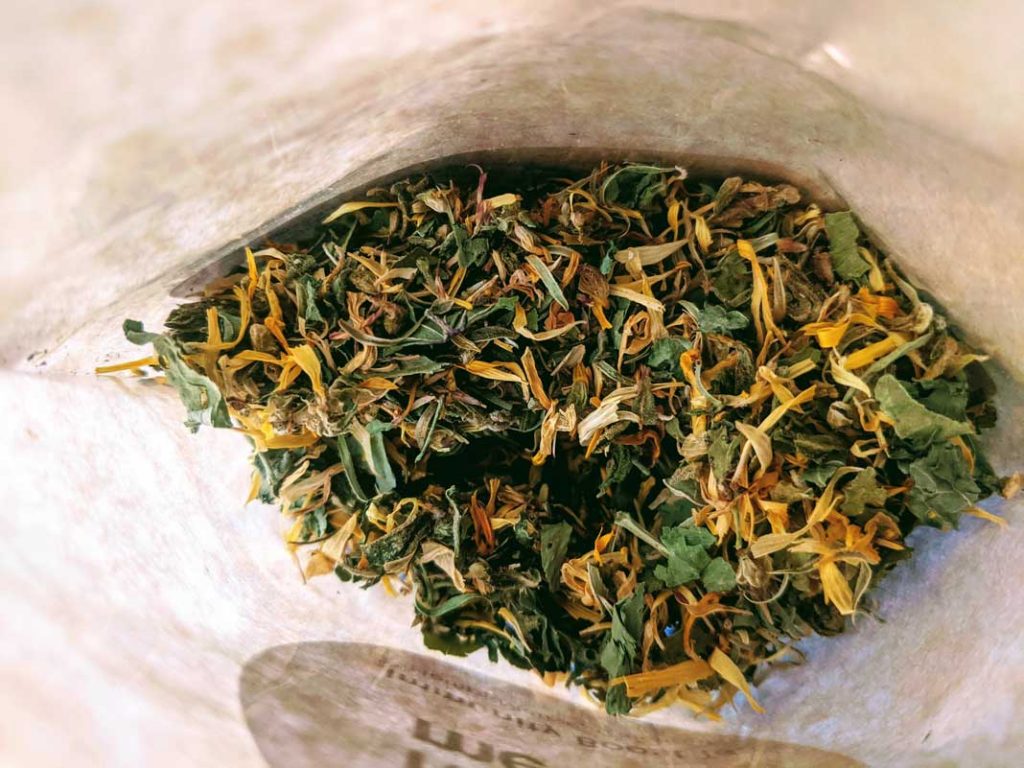 Why Include Calendula?
Similar to mauve, calendula has also been used throughout history to treat wounds. The herb has antifungal and anti-inflammatory properties, while it has also been shown to help ease muscle fatigue.
I found it interesting to read that in one study, 78% of participants who suffered from foot ulcers actually saw them clear up completely following daily application to the area.
The powerful amount of antioxidants will also help your body to fight off free radicals, the main cause of ageing.
How Did It Taste?
The taste was very subtle, which is a positive, as sometimes hemp tea can be a little overwhelming if the scent and taste of hemp takes over.
I tried both with and without milk, but I preferred the taste without milk. You do still want to take it with a fatty source, so if you do go without milk, try to think of an alternative, such as a shot of MCT oil. I have a 'brain formula liquid' which I'm taking, with plenty of fatty acids included, so I took this at the same time as the hemp tea to increase bioavailability.
How Do You Make The Tea?
It's loose tea, so you will need a loose tea teapot to hold the herbs. Add around 1 tablespoon of the immunity boost tea and then boil your kettle to full (99c), before pouring into the teapot. Leave the tea to steep for 3-5 minutes before pouring yourself a drink and enjoying your cuppa.
Longer you leave it to steep, greater the quantity of ingredients will be present in your tea, so I always like to leave it a little longer, but do be aware that the longer you leave it steeping, stronger the taste will be.
As mentioned, you should have this with a fatty source to increase the absorption rate, so you can add a dash of milk, but I personally don't think milk goes well with hemp tea, so you could opt for a drop of MCT oil, a few nuts or you could have it alongside some eggs at breakfast time.
Who Are Restore Me CBD?
Restore Me CBD is a UK based CBD brand started by Simon Johnson. He launched the company as he wanted to find a natural option to help manage his symptoms of anxiety and a lack of sleep.
The brand is still in its infancy, however they've already released a very interesting range of products, including full spectrum CBD oils, a winter wellness box and, of course, a range of hemp teas.
Where Can I Buy This From?
You can order a 25g pack from their website for £7.95, or a 50g pack for £15.95. Orders are dispatched on the day they're ordered if before 2pm (weekday) or alternatively the following day.