Hapi Hemp are my latest CBD tea testing brand, utilising high quality hemp in their vast range of products. Based in Peterborough, this growing company is the creation of Lorraine and Sam, who have personally suffered from chronic illness and sought a natural treatment to help alleviate the symptoms, which is how they came across CBD, and the rest was history.
What Does Hapi Hemp CBD Tea Taste Like?
I always try to state that CBD products aren't about the taste, they are about the results, but when it comes to tea's and coffee's, flavour is always pivotal. I've tried some great tasting options and some absolutely nasty ones (the bad ones are often turmeric based), while I was happy to find both myself and my girlfriend loved the taste of the Hapi Hemp Tranquil CBD Tea.
The pack contains chamomile, valerian, hibiscus, rose hip, orange, berries and hemp, however we were happy to find you can taste the orange, which offers a very refreshing flavour.
How Long Should The Tea Brew For?
The first cup we made we were too impatient and gave it five minutes, however the second time we gave it ten minutes and it improved the flavour. Therefore, while the general recommendation is 3-5 minutes, I actually think giving it a bit longer allows for a greater potential level of CBD and for a stronger taste. It's always the principle that I was taught with green tea, that longer you leave it to brew, the higher level of antioxidants you will have in your cup, therefore I have adopted the same rule with CBD tea.
How Much CBD Is In Each Cup?
This all depends on how much you include in your cup, but you get 10mg of CBD per teaspoon. A single 200 gram pack contains 500mg of CBD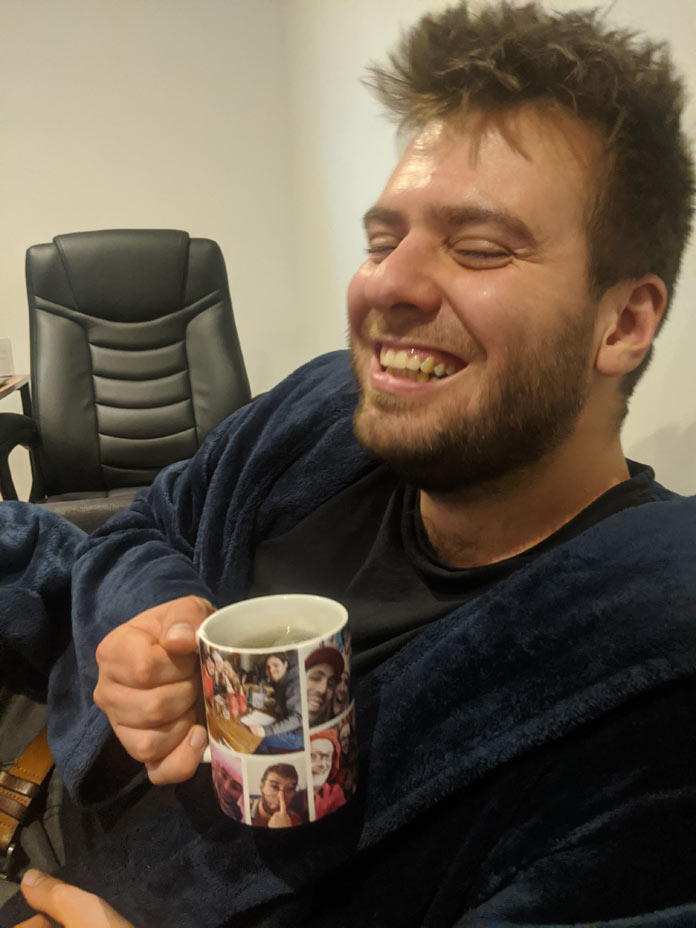 How Many Cups Does One Pack Offer?
Based on a single cup being a teaspoon of the Tranquil CBD Tea, you should get 45-50 cups on average.
When Should I Drink It?
The combination of CBD and chamomile make this a great drink to have before bed, to relax the mind and ease any stress so you can sleep well at night. I used to really struggle with falling asleep before I found CBD and I've written in the past on how CBD affects sleep which is worth a read. The important thing to check before purchasing any CBD tea is that it doesn't contain any caffeine, as this would revert the time you should take it to the morning if it does, however the Hapi Hemp CBD tea is completely decaffeinated.
Where Do I Buy It From?
You can purchase the CBD tea from the Hapi Hemp website for £18.99 for a 200 gram pack. The pack also comes with free empty tea bags for you to fill the ingredients into. Make sure to use the code 'CBDSLOTH10' for a discount!