I'm a self-confessed fan of Herts Hemp, I was hugely impressed by their CBG oil I had the fortune to review at the end of last year and found the results amazing, hence why they have become by far one of my favourite brands I put my name and support behind.
Today I'm looking at the latest product in their range, the CBD oil spray, with a number of interesting benefits I will go into throughout this article.
What Is Biozorb?
From the moment you land on the product page, you're met by claims that it is 4x more bioavailable. Considering this would made it much more effective at a lower dosage, this should attract your attention and make you curious.
The reason behind this is the power of Biozorb. Biozorb contains a formulation of compounds derived from nature which dramatically improve Bioavailability.
The Biozorb carrier solution is like no other carrier oil on the market today. Its viscosity is only 7 Brookfield units, while it is a pharmaceutically prepared drug delivery system.
The finished product is atomised as a subtle "mist" or "cloud". This mist can quickly be discharged into the mouth and under the tongue.
As the mist contacts the maximum surface area within the buccal cavity, it starts to absorb immediately on contact with all surfaces because of its spread pattern and particle size. It is therefore entering the bloodstream through the mucous membrane as quickly as possible.
What Is Viscosity?
Viscosity can simply be explained as a 'fluid's resistance to flow', whether that fluid happens to be a liquid or a gas. So if something is viscous, it is thick and will not flow so easily, with strong internal friction.
Who Is Dr Thomas Brian Chapman?
Dr Thomas Brian Chapman was the director of Octagenix, however he was most well known for being the inventor of the CO2 extraction method, which is now commonplace in the CBD industry.
The British Pharmaceutical Association Pharmacist specialised in plant extracts for medical use and had over 50 years' experience in the industry before sadly passing away.
One of the creators of Sativex, Dr Chapman also invented the patented BioZorb carrier solution whilst in Uganda. Far from CBD, this was actually as a medicine to treat Malaria.
The dosages he was administering were 120mg of treatment orally. However, one thing Dr Chapman found was that if he dissolved the medicine into his Biozorb solution and utilised sublingual consumption methods as a fine mist, it only took 20mg to yield relevant results. This was a remarkable finding!
The knock on effect for Herts hemp is that, by using the Biozorb carrier solution with their CBD oil, it would increase the bioavailability by somewhere between 3-4 times as much.
To apply this to their product range, the 500mg spray would therefore provide similar results to what you would expect from a 2,000mg CBD oil tincture.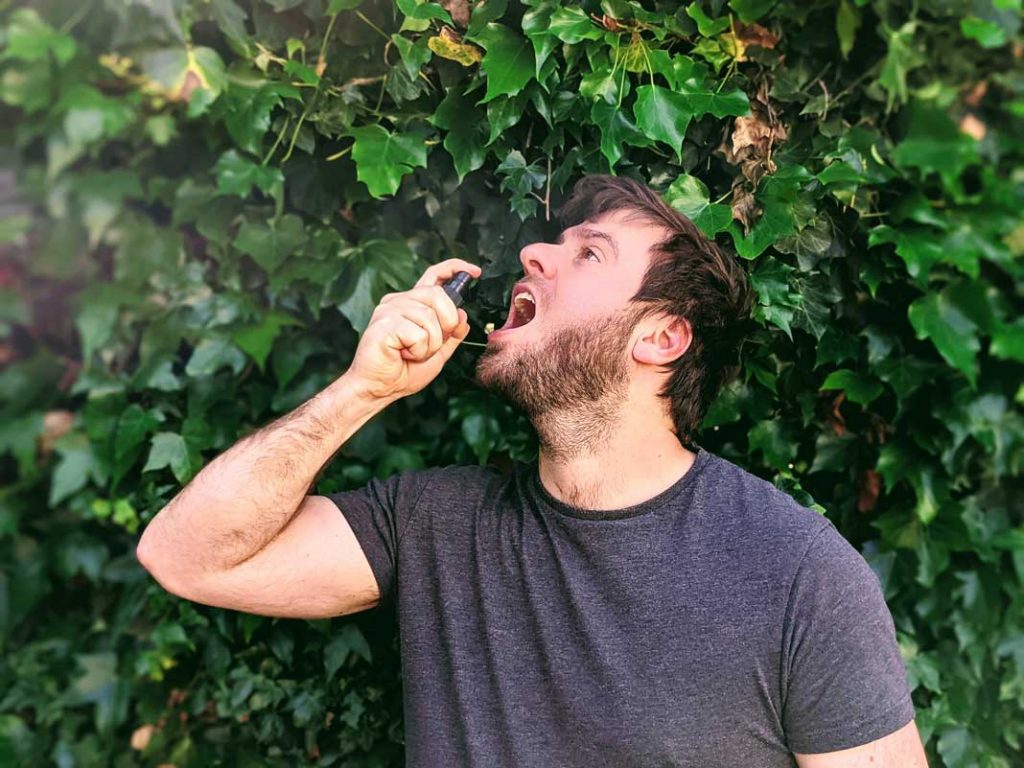 How Much CBD Do You Get In A Herts Hemp Spray?
You can either opt for the 500mg or the 1,000mg CBD oil spray.
Based on the 1,000mg CBD oil spray I'm testing, you will get 10mg of CBD per spray, while I used a couple of sprays per day during testing.
They state that a single bottle contains 100 sprays in a bottle, so if you were to use 2 sprays per day, you would get 50 days worth from a spray bottle.
Beyond CBD, there are minor amounts of CBDV and THC in very small quantities, but this is predominantly an isolate.
Where Can I Buy This From?
The 1,000mg CBD oil spray is available for £55, or the 500mg is available for £35, from their website, with free delivery on all UK orders over £25.
Before completing your order, you may also want to have a read of the other Herts Hemp CBD oil review, in case you'd like to mix and match a few items.
Also, to benefit from 15% off, use the discount code CBDSLOTH15. This code can only be used once per customer, so if you've previously bought a Herts Hemp item via my code then I'm afraid it won't work.