Over the past week I have been testing out an area of CBD that is still relatively untapped, hemp pouches, with only a few existing in the current market (that I'm aware of).
The brand is Voon, while the founders originally met up in a restaurant in Stockholm (the Asian Fusion restaurant Miss Voon) when they began discussing ways in which people could consume cannabis in a smokeless format. Say hello to a prilla of snus!
How Long Do You Keep Them In The Mouth For?
On the product page you will find a link labelled 'usage steps' which will guide you through the process. The pouch will last for up to 30-45 minutes according to their directions, so don't get tempted to take it out early.
Of course, if you're thirsty and fancy a drink of water, don't hesitate to pop it out for a moment while you have a drink, before popping back in.
I would recommend holding them below your tongue, to allow for sublingual consumption, then distract yourself and get on with your day.
Make sure not to bite or chew on the pouch, as you don't want to release them into your mouth, just keep it relatively still and distract yourself.
The Packaging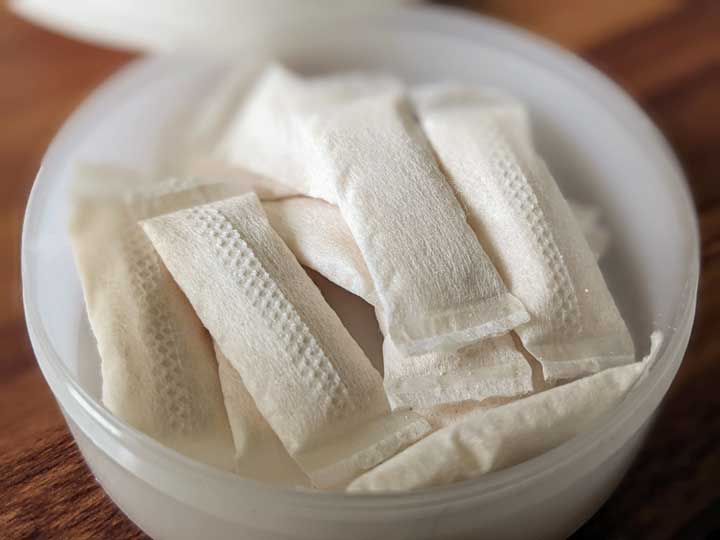 The CBD pouches are contained within a snus pouch, which is a plant-based material (cellulose) in combination with other carriers, sweeteners, and flavours.
The pouch material is a non-woven paper similar to the one used in tea bags, while the pouch measures 1.25 inches by 0.5 inches.
They are kept in a small plastic container, which easily fits all 15 in. To stop any falling out, they have a 'tamper evident seal' sticker to hold the lid onto the container so you don't have to worry about any going to waste on delivery. Once this is removed, you can easily pop the lid off and back on whenever you need one.
What Is Snus?
Snus is a powdered tobacco which is held within a pouch and people back in the 18th century in Sweden would place them under their lips or gums and allow the nicotine to release.
Of course, I want to highlight that these Voon hemp pouches are nicotine free and contain no tobacco! I wouldn't go near them if they contained nicotine or tobacco, nor would I ever advertise anything on CBD Sloth that contained these ingredients.
The idea was to adopt the snus format for the cannabis industry, allowing for it to be readily absorbed into the bloodstream. The end result was a 'novel nano infused hemp formulation' with the aim to offer a smokeless alternative that had a higher bioavailability than the other common consumption methods.
How Much CBD Do They Contain?
Each pouch contains 20mg of CBD, while you get 15 pouches in a pack, meaning you get a total of 300mg of CBD.
As the FSA recommends no more than 70mg of CBD in a day, that would mean a maximum of 3 pouches within a 24 hour period. Of course, most people don't go close to this figure, with most people starting out with 20mg (1 pouch).
So if you're new to CBD, try a single pouch and see how it goes, if you feel you need to increase your dosage then you can try a second pouch later in the day.
The pouch contains CBD and CBDV, while it is also worth pointing out that the lab reports highlighted these pouches didn't contain any THC. It's always worth reading the lab reports yourselves before trying anything, while they are easily accessible from the top navigation menu on their website, under 'lab'.
Quite critically, they have the lab reports for each batch, something which is important, as some brands fail to upload their most recent lab reports, connected to the batch you may receive, meaning you won't be aware of the cannabinoid profile.
What Are The Flavours?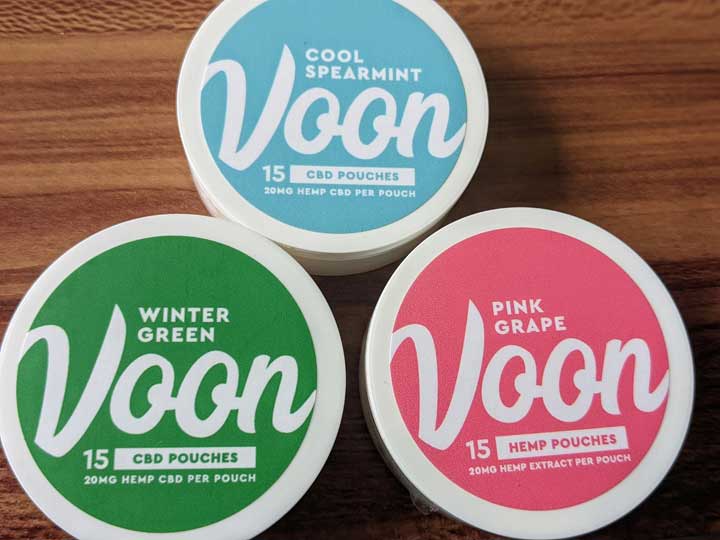 They have four different flavours, being snazzy tangerine, cool spearmint, winter green and pink grape (grapefruit), while I have been sent the grapefruit, spearmint and winter green to try out.
Starting off with the grapefruit, this one was surprisingly nice, I never really have anything grapefruit flavoured so I wasn't sure what to expect, but it had a nice taste.
The cool spearmint was much like taking a strong mint in the mouth, so I hopefully had extra fresh breath afterwards.
The third flavour I hadn't ever heard of before, Winter Green, so I had to do some digging around. Apparently it comes from the wintergreen plant, commonly grown in North America and Asia, while the essential oil from Wintergreen is commonly used as a flavouring agent in toothpastes and mouthwashes.
Where Can I Buy This From?
The full range are available from their website, costing €9.99 for a single pack. They charge €9.95 for delivery in the UK, therefore you may want to opt for the pack of five for €49.95 as they then offer free delivery.