I have recently had the good fortune of trying the V Savi CBD oil 500mg drops, a Peterborough based business which was launched in 2015. This wasn't one I had previously heard of, so this always piques my interest, learning about new products and testing them against the oils I'm used to. I hope you enjoy my review of the V Savi CBD Drops, but if you feel like I have left anything out, please do get in contact and I'll answer your questions in the article.
How Much CBD Do You Get In A Drop?
There are several options to pick from when purchasing this product, from 300mg to 1,500mg, therefore you can opt for the strength that suits your requirements, the issue you are dealing with and what your body is accustomed to. For this review, I have been trialling the 500mg bottle. A single bottle is 10ml, while if you were to take a full squeeze of the dropper, you should get 1ml quantity. This means that a full squeeze into your mouth should provide 50mg of CBD. If you are new to taking CBD oil, you might want to take a half squeeze to see how your body reacts.
Most importantly, it is full spectrum, meaning you can benefit from the entourage effect. One extra note is that of the 500mg, 66% is CBD and 34% is terpenes, something useful to know for people who are looking to fully breakdown and work out what works best for them.
Unsurprisingly, it is pulled via CO2 extraction methods, much like the other CBD oils you will find in the UK.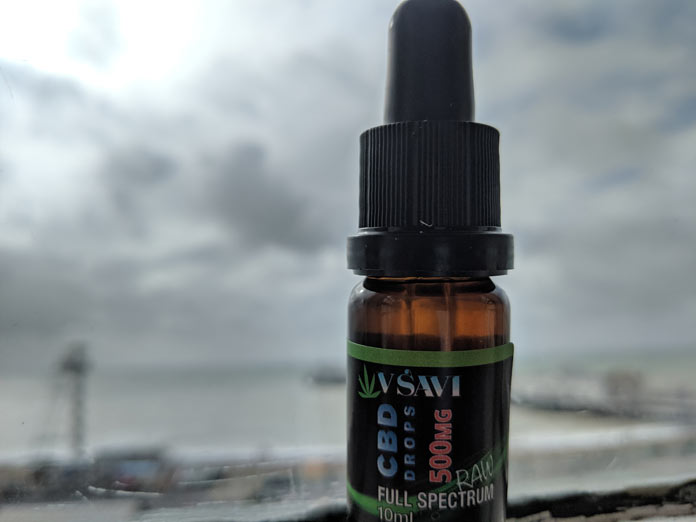 How Do I Take It?
As with any other CBD oil, you let the liquid sit under your tongue (sublingual consumption) and hold it there for 60-90 seconds (2 mins if you have the patience). Afterwards, just give a quick swallow to whatever is left in your mouth. Give the bottle a soft shake before dropping into your mouth.
What Carrier Oil Is Used?
This product contains olive oil to help keep the bioavailability high when digested in your body. Olive oil is quite common nowadays with CBD oil's, just like Love CBD, which is one of the top sellers in the country. Make sure to read my guide on different carrier oils for CBD oil.
Will Vsavi CBD Oil Get Me High?
No, CBD is not a psychoactive ingredient. The ingredient that gets you 'high' is THC, of which there must be under 0.2% to be legally sold in the UK as a 'food supplement'. This product contains between 0.0-0.1mg, therefore it is clearly under the minimum to be sold here in the UK. They are also tested by third party labs to ensure potency, quality, safety and accuracy.
You can also see where the V Savi CBD oil scores on my list of the best CBD oil available.
How Long Will It Last?
If we're talking about life expectancy, then you have quite a long time on your hands. The bottle I have has almost 2 years on it and that is a best before date, to ensure the potency levels don't change, however if you keep the bottle sealed and out of direct sunlight then you could have a considerably longer time.
If however we are talking about doses, then if you are taking a single ml drop each day, you will get 10 days worth out of this bottle. Again, this all comes down to your personal dosage size, as everyone chooses different amounts.
Where Do I Buy It From?
The Vsavi oil drops can be purchased from their website, while the product being discussed is priced at £27.99.