Today I'm trying a product by a brand from one of my favourite places in the world, over on the Channel islands. Jersey Hemp was launched by three fire fighters who were interested in Hempcrete, while they've since been featured in multiple publications, from the BBC to ITV, the Guardian and The Sunday Times.
If you're wondering about the picture, they highlighted in a few different spots on their leaflet and on their website that it is suitable for dogs, so I couldn't hold back from getting a quick picture with Buster!
How Much CBD Do You Get?
I have got the 1,000mg CBD bottle, in a 10ml tincture. There is also a presence of CBDV, CBG, CBN and CBC in minor amounts.
This is derived from organically grown whole plant cannabis extract, which is important to ensure there are no pesticides present in the oil.
If you're interested in experimenting with other cannabinoids, then you will be happy to hear they actually offer a CBG oil, which is a growing area which I can see really taking off in the years to come.
They also talk on their site about soil rejuvenation and hemp cultivation, while they're fortunate to have fertile soils in Jersey, which allows them to grow some great crops (who doesn't want a jersey potato in their dinner).
The recommended serving on the packaging is 5-10 drops, while a single drop would work out at around 5mg of CBD. You can therefore adjust the amount you take based on your personal requirements. 25mg is a decent amount of CBD for a single serving, so 5 drops should work perfectly, but you can test it out and see what works for you. If you're taking it to improve your sleep, aim for around 20 minutes before you go to bed, in order to help clear your mind. If you'd like to learn more about the subject, you can read my guide on how CBD can help you sleep.
They also have a quite cool CBD calculator on their website, which helps you to work out how much you need based on your weight. They also split it out based on whether you want a low, medium or high amount. I will however say that the numbers seemed a bit higher than what I think many people need, so if you're using it for the first time, you might not need as much as it states, so definitely start on the low end.
I have an injury to my arm currently, so it's a weirdly nice time to test it out and I did find the pain wasn't as noticeable after around 30 minutes from taking the CBD oil. I also felt a lot less stressed, which was needed as I have just started ploughing my savings into cryptocurrency!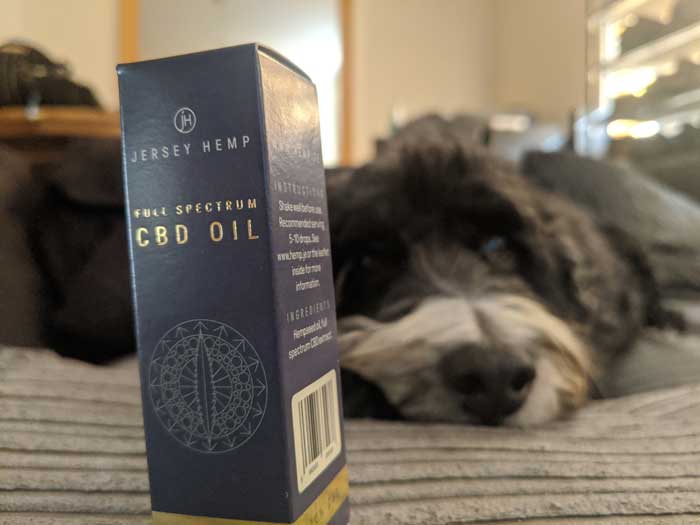 Is This Vegan Friendly?
Yes, this product is absolutely fine for vegetarians or vegans, containing simply full spectrum CBD extract along with the carrier oil, being hempseed oil.
The Packaging
I know this shouldn't be a consideration, but I really love the branding and packaging, so thought it was worth giving credit where it's due. The golden writing works well with the blue and make it appear very premium.
Where Can I Purchase This From?
You can purchase the Jersey Hemp Full Spectrum CBD Oil from their website for £69.99 in the 1,000mg tincture. They also offer a 500mg and a 2,000mg bottle if you'd prefer something a bit stronger or if you're working on a different budget. They also offer free delivery if you're based in the UK.