The latest in the CBD FX range to be reviewed, as I return to the oil after trying a CBD Drink with the very interesting Berry Chill Shot. Be aware, if you're a fan of the CBD FX product range then you will be happy to know I still have a large number of products to review by this brand! But with any review, I give myself a period of time to try the product and measure results before writing anything up.
How Does It Taste?
I haven't had many lychee based foods or drinks, therefore I wasn't sure what to expect, but both myself and my girlfriend were incredibly pleased with the taste! Unlike your usual CBD oil, which has a generally unpleasant taste (trying it so often I don't actually mind that taste nowadays), therefore if you struggle with the taste of the flavourless options then this will certainly appeal to you. In fact, the unbelievable taste helped it to solidify a strong position on my list of the best CBD oil available.
As well as lychee, it also has lemon and kiwi, hence the name, however these are less noticeable in comparison to the lychee. The taste is sweet, while there is a subtle zest behind it all.
Which Carrier Oil Is Included?
CBD FX uses MCT oil, which is by far the best carrier oil, which I have spoken about through numerous blog posts so I won't go too much in depth on this topic, but it helps to keep the bioavailability at the highest point after swallowing the remaining oil. It should be mentioned that if you suffer from diabetes type 1 then there are certain warnings around taking MCT oil, but for anyone else it is seen as a great ingredient and can help with weight management.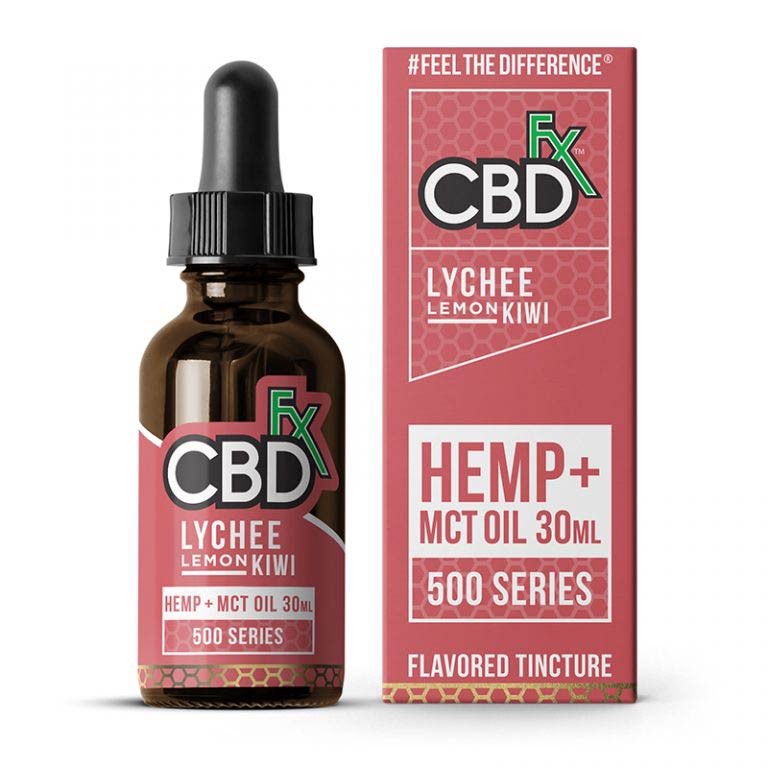 How Much CBD Does It Provide
A single 30 ml bottle contains 500mg of CBD in the bottle I have, called '500 series', however you can also purchase a 1,000 and 1,500 mg version. The recommendation is to take a 1ml drop, which will provide you with 16.5mg of CBD.
As you can guess, this means you get 30 doses from a single bottle if using the full 1ml drop each time, so on average this should last you a month if taking consistently.
One interesting point that I quite like is the dropper has measurements on the side, going up in 0.25ml sizes, therefore you can add the amount that you require, which is very rare with these droppers, where it often feels like a guessing game.
The CBD is full spectrum, meaning you can benefit from the entourage effect, as the various flavonoids and cannabinoids work together in unison. The product is Non GMO, it is gluten free and completely vegan.
Their 3rd party lab test results are all available on their website to see, something always worth checking before purchasing from any CBD brand. If they are not willing to provide them to you, then you should avoid that brand like the plague!
Make sure to take the CBD sublingually and hold it there for 2 minutes ideally (the packaging recommends 1 minute, but I'd hold strong for a bit longer to ensure absorption).
Where Can I Purchase The CBD FX Lychee CBD Oil?
The Lychee Lemon Kiwi CBD Tincture Oil can be purchased from the CBD FX website, while if you're ordering in the US then you can benefit from free delivery.
If there is a CBD FX product you would specifically like me to review, please do let me know and I'll try to add it to my list.