Today I'm going to be reviewing the BumbleZest Ginger CBD Turmeric Sparkling Water. The brand was born here in the UK, while they focus on producing high quality nutritional drinks, that simply include natural ingredients and help you to deal with the tough rigors of modern life.
The smell of the drink definitely sits closest to ginger beer, as the ginger is unsurprisingly the overpowering flavour that wins in being most noticeable. The taste however was a little different to your average ginger beer. The connection is certainly there, but you can taste the turmeric, albeit subtly. You can certainly taste some citric, which is the 1/3 of lemon included in the ingredients.
But perhaps most impressing is that they have included CBD without it affecting the taste. Anyone who has supplemented with CBD oil will know it hits you with that pungent flavour, where you almost build yourself up to drink it. So anything that offers CBD without the poor flavour is an interesting option.
Is The Bumblezest Drink Vegan Friendly?
Yes it is. The drink only utilises vegan friendly ingredients, being completely plant based with nothing artificial included. The product is gluten, dairy, lactose and nut free. It is also free from preservatives or GMO's. As a nice little addition, it is also served in a 100% recyclable non-BPA can.
How Much CBD Is In A Can?
A can of Bumblezest CBD sparkling water contains 1.5mg of full spectrum CBD. This might not be enough for anyone looking for a higher amount (I'm supplementing closer to 15mg daily at the moment). On the other hand, it is a great option if you want something on the go, while you're also looking for a more rounded health drink, with plenty of other ingredients to help you.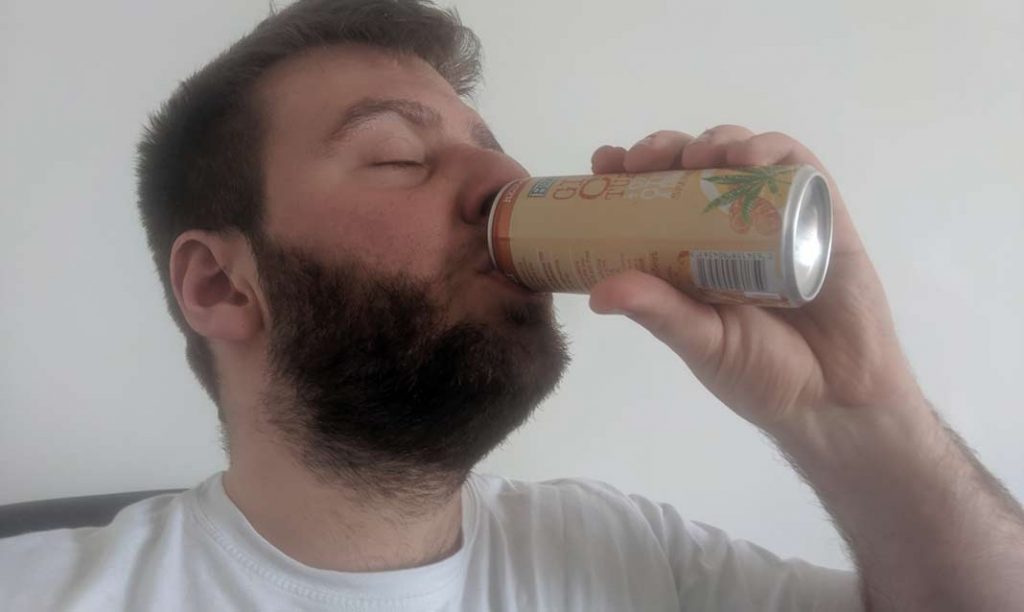 Why Is The Bumblezest Drink So Good, Other Than CBD?
Of course, the CBD element is what really sells it and gets it onto this list, however I'm actually really impressed by the choice of natural ingredients and botanical extracts.
Turmeric is fast becoming the go-to option this year, regularly highlighted in health lists and is often recognised as a superfood due to its wide list of nutritional benefits and mineral/vitamin breakdown.
Lemon juice is something many of us are trying to add to our diets (I grew up having lemon and honey whenever I had a cold), while its list of benefits are extensive. Lemon juice is a good source of Vitamin C, it can help to tackle obesity, improve your skin quality and help with digestion.
The cinnamon adds a nice taste, however it's also packed full of antioxidants, being another superfood on the ingredients list. Cinnamon has anti-inflammatory properties and has been shown in many studies to help lower the risk of heart disease.
How Much Does It Cost?
On average, these cans cost around £2.09. If you wanted another product from their range, the cans match price, while the bottles are around £2.79. These prices are posted at time of writing and may be different by the time you read this.
Where Does The CBD Come From?
You can rest assured on quality and meeting certain quality standards, with the CBD sourced from a farm in the EU, meaning it has to meet EU legislation and also contains THC under 0.2%.
Do You Keep The Can In The Fridge?
This is completely up to you. I kept it at room temperature and it tasted great, but you can keep it in the fridge. You should do all the usual to protect the taste and quality, keep it out of direct sunlight and away from extreme temperatures.
Can You Mix The Drink With Something Else?
I chose to drink it on its own, however they do list a couple of ideas if you wanted to try it in a smoothie or in a cocktail. If you treat the drink like a ginger beer (with plenty of added goodies), then you might want to try a cocktail or mocktail that utilises ginger beer.
How Many Calories Are In A Can?
There are 20 calories in each can, with the majority coming from sugars. To be precise, the sugar is largely from the maple syrup, which gives it the great taste and sweetness.
Where Can I Buy Bumblezest CBD Sparkling Water From?
You can purchase any of their products from their website, from Nature's health Box or in a number of stores found in your local area. Of course, CBD can't be sold on Amazon, therefore I recommend going with the options highlighted above.