I will be testing two products by Endoca, starting off with the Hemp Whipped Body Butter, which helps to protect and moisturise your skin. They have included a collection of ingredients that are perfectly formulated to replenish and care for your skin.
One added point which I thought was worth quickly pointing out in case you purchase this product, it states on the packaging you should keep it in the fridge. I wanted to mention this, as I wouldn't naturally have put any CBD product in the fridge, so it was lucky I noticed this when it arrived, as otherwise it would have sat on a shelf until I was ready to review it. This also helps to stop you from accidentally leaving it in direct sunlight (not that we will be seeing much of the sun with winter looming).
What Are The Main Ingredients?
The most important ingredients in this body butter is CBD from hemp extract, Vitamin E, beeswax, organic shea butter, cocoa seed butter, cannabis sativa seed oil, coconut oil, tapioca starch and vanilla extract.
Why Include Shea Butter?
I've written in the past about the various skin benefits of applying shea butter, an ingredient I'm quite a fan of. The fact it smells nice is merely an additional benefit, as the main reasons for using it is because of the high concentrations of fatty acids and vitamins.
These are integral as it means it has moisturising and healing properties, while it's also a good match for all skin types, making it highly versatile. If you're suffering from dry or cracked skin, you need shea butter in your life!
Shea butter absorbs very quickly into the skin, while it can also help protect your skin against pollutants. In fact, shea butter is starting to be touted as a 'skin superfood'.
How Was It?
The smell was incredible! You can certainly smell the vanilla even before you open the lid, I kept sniffing myself afterwards (sounds a bit bizarre but it was a great smell). I think it was the combination of shea butter and vanilla extract that made it smell so incredible.
The only negative I would state is that the formula was relatively hard. With the name 'whipped butter', I imagined it being soft and creamy, but it was more like a balm than a cream. Having said that, it spread into the skin nicely and seemed to absorb sufficiently, you just have to dig your fingers in hard when getting it out, but I'm certain you will be happy with the results.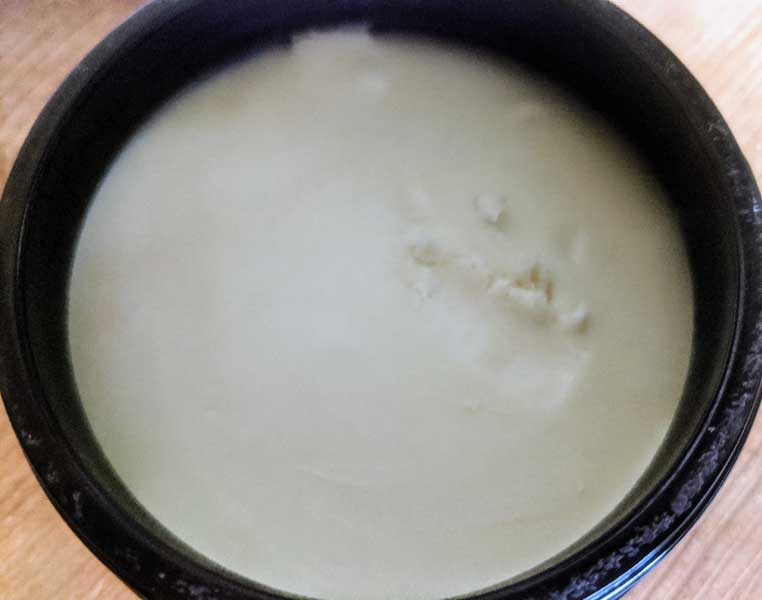 Can You Use This On Your Face?
They state on their website that you can apply it to your face as well as the rest of your body. If you do apply it to your face, be careful not to get any in your eyes or mouth.
I love applying this to my elbows, knees and hands, bringing a lot of moisture to areas that have a tendency to dry out. On the other hand, I didn't use it on my face as I like something a little softer/thinner on my face, but that's just a personal preference.
How Much CBD Do You Get?
In the tub I've been sent, it contains 300mg of CBD within a 100ml tub. You can alternatively opt for the stronger version at 1,500mg. I used around 2.5ml each time, meaning you would get approximately 40 applications out of this, but it all depends on how generous you are with your applications. Based on a 2.5ml amount, you would get 7.5mg of CBD. If you feel you need more CBD to help the area, then you can simply apply a greater amount to the skin.
Where Can I Buy This From?
You can purchase the Endoca CBD Infused Cream from their website for £34. I'm also very happy to say you can get a 10% discount with the code 'CBDPARTNERS10'.