Gummies, vapes, oil, creams, chocolates, whatever is next…Oh that's right, a cheeky tipple! Today I have the honour (although I might not feel so honoured tomorrow morning) of trying the brand new CBD gin and CBD spiced rum, by Top Beverages.
How Much Alcohol Is In Each Bottle?
This is a case of tall and thin or short and stumpy, well, kind of. Despite the clear difference in sizes of bottles, they both contain 100ml of liquid. While on the subject of the bottles, they are packaged in elegant Italian glass and then kept in tins to ensure they transport effectively, keeping them in top condition and also offering a premium feel to them.
In regards to the alcohol volume, both contain 54.5%, oh you heard me right! My usual rum contains 30%, therefore this was quite a shock, hence why you really don't need more than 100ml to really feel the effect. They quote the famous saying of the gin being 'royal British navy strength', which connects to the 18th century trips around the world by the navy, when gin was at peak popularity (well, unless maybe compared to today where it has shot to number one in the UK). The story goes that the gin was kept alongside the gunpowder. If the gin spilt onto the gunpowder, you could work out whether it was 'navy strength' (57%) by whether the gun powder still lit when wet. Considering the officers were very particular with their gin, this 'proof test' was the perfect trick to ensure they weren't getting hustled.
How Much CBD Is There?
Both the gin and the rum contain 10mg of CBD in the whole bottle. Having said that, if you normally dose a higher amount of CBD, I don't recommend drinking several bottles, you might not be able to walk alright after that! Saying how much is in a single glass is much harder to say, as it all depends on how enthusiastic you are with your pouring.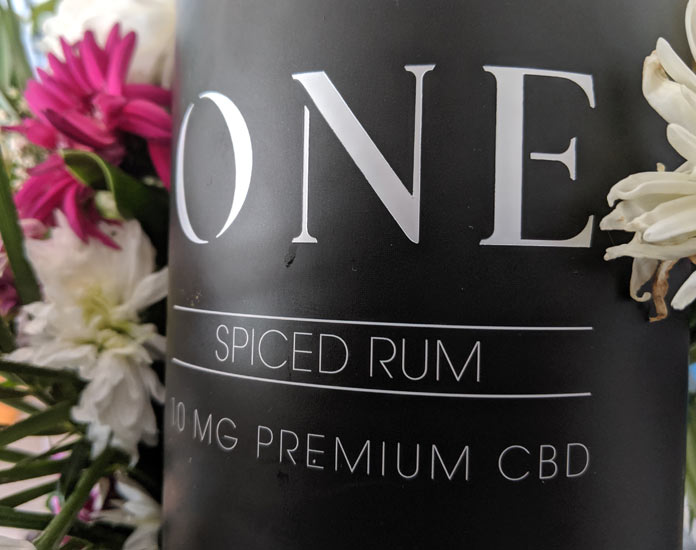 What Are They Flavoured Like?
The rum has strong hints of cassia bark, orange peel, ginger and Indian vanilla pods, while the gin is distilled with angelica root, orris root, juniper berries, coriander seeds, elderflower (which you can definitely scent), lemon peel and lime peel.
The water used in production of the alcohol is sourced from the Scottish Loch of Lintrathen.
Who Are Top Beverages?
Started by Saf Ali and Nicholas Pullen, this is a UK based company right in its infancy, beginning its journey in January 2019. Both of the friends are successful entrepreneurs who have both succeeded in building businesses in the past and then selling them on. Well I hope they don't say goodbye to this young business any time soon, as I think they have huge room to grow (I wouldn't mind seeing a CBD dairy vodka to go with the collection).
Being a UK business, all of their spirits are actually distilled in Scotland right along the coast.
Where Do I Purchase CBD Gin or CBD Spiced Rum From?
Both bottles are priced at £12.95 each, available exclusively via Top Beverages.