Well hello gin! This review had to wait for Friday night to sneak around, as I could hardly research and do a taste test on Monday morning when I arrived (albeit I did give it a few thoughts Monday evening).
I haven't tried to many CBD alcohol options, with Top Beverages certainly leading the way with these, however the introduced with pre-mixed cans make this an interesting option if you have to get on a train on the way to seeing friends or fancy having a few drinks with mates while out in the park soaking up the sun.
How Much CBD Do You Get?
A single can of CBD infused gin and tonic contains 10mg of CBD. I'm always a fan of adding MCT oil to try and enhance the bioavailability, so if you have some then you can add a few drops to your drink, or just have a shot of MCT oil before cracking into the CBD G&T.
It should be highlighted that Donia Sofia highlight on their cans that it is THC free, the part that gets you high. As you can imagine, you wouldn't be able to get high from any of these products, with no more than 0.2% THC allowed to be sold in the UK, however being THC free is important for many people.
How Does It Taste?
Up until a year ago I wasn't a fan of gin, however this completely changed and it's now my go-to drink, much like others in the UK.
Considering it's a pre-mixed can and it contains CBD, I was actually really pleasantly surprised by the nice taste. I had early doubts, as when CBD is added, it can certainly flavour some products and can sometimes be a bit of an intensive flavour, but the taste was brilliant, it left me wanting a good few more!
The juniper berries is complimented with coriander seeds, angelica root, orris root, elderflower, lemon peel, lime peel and fresh Valencian orange. As you can imagine from that list, it tastes a little citrusy, but not an overwhelming taste.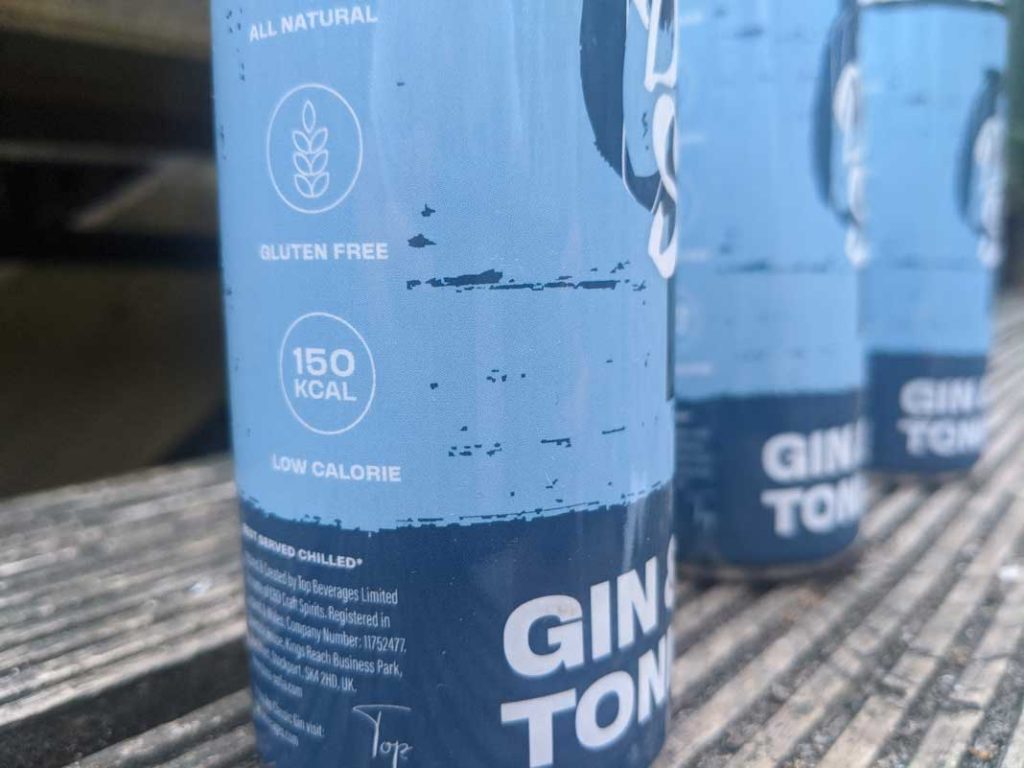 How Many Calories Are In A Can?
A single can contains 147.5 calories, one of the benefits of tonic is that it doesn't pack your drink with sugar like a lemonade will.
The CBD G&T is also completely natural and gluten free. On top of this, it's also vegan friendly.
CBD Infused Tonic Water
It's possible you've got your own gin which you're a diehard fan of and would struggle to switch over, yet you're still curious about consuming CBD via alcohol. Well this is where the Donia Sofia CBD infused tonic water comes in!
This 75 calorie tonic also contains 10mg of CBD, meaning you can consume your CBD while also enjoying your tipple of choice.
Where Can I Buy This From?
You can purchase the Dona Sofia CBD G&T from their website, coming in various amounts per pack. You can pick up 6 cans for £12, while they go in packs of 6, 12, 24, 48 or 60, with the price remaining consistent at £2 per can. These have only just launched, so you will be one of the first people to try this new drink from this exciting brand.
Realistically, if you were to head to M&S in a train station to grab some pre-mixed cocktails, you would pay more than £2 for the cans, while they wouldn't contain CBD and they honestly don't taste great. The price was a nice relief, as I thought they might potentially out price their potential customers, by charging a premium rate for the added CBD, but they've managed to keep the cost down without compensating on taste or quality.