I'm delighted to say that I'm now a media partner for WeedFest, taking place in Poland later this year. For those looking to attend, or those who are curious to find out more, have a read below of my interview with Michal Witczak, the founder of the event.
What time should people arrive on the day?
On Saturday we are opening at 10 am and we will close at 7pm, on Sunday we are opening at 11 am and close at 6 pm.
What time should I arrive as an exhibitor to be setup in time for people arriving?
For our exhibitors, we are opening the space up on Friday at 4pm and then it opens at 9am on Saturday. Exhibitors which have a booth with a stand can come on Saturday morning, because they don't have as much to unpack. Also they can sleep longer before 2 days of events!
Who are the big speakers we can get excited about?
At the moment, information about our speakers is still a little secret. We will update everyone via our social media in due course.
For the moment, I can say that one of our speakers last year included Mike Wise, who is certainly a well-known and recognisable figure in the cannabis community. This year we plan to have both Polish and international experts on stage to share their knowledge with visitors.
Is there any way to book a seat at a seminar or is it first come first serve? How many seats are there at the talks? Are the talks all at one area or split?
All talks are in one place and is on our 3rd floor at the event. For our visitors, we will have more than 100 seats, but also in the EduZone area we have more than enough space and of course if anyone would need a seat, we will put another chair out for them.
In the EduZone area there also will be a GrowZone area for lovers of growing. Last year, this zone gained spectacular interest and this year we will try also to make it bigger and better, with a few speakers from our international friend companies.
Of course, everything will be updated by our social media.
With reservations, it's not possible to reserve seats, but like I said I'm sure that everyone that comes to our seminars will have their own seat.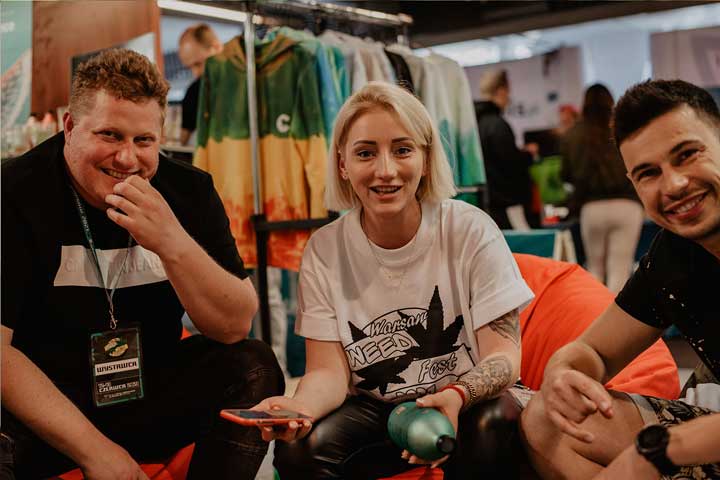 How do I enter the Hemp Cup Awards?
It is very easy. You just need fill all required fields in our application form on our website https://weedfest.pl/en/registration-the-hempcup, choose which category you would like to take a part in and that's it.
After you have sent the application form, you just need to send us a sample of hemp.
We have two categories at the moment.
The First main category is for "The best hemp in Poland" and to be in this competition you just need to send us a 5g sample of hemp and pay a 50 EUR entry fee, while the second category is an Audience Award.
In this category, companies sending us 20 grams of hemp with no entry fee and every visitor on WeedFest could taste and vote on their favourite hemp.
Audience voting will end on Sunday at 4.20 pm and after that we will start giving awards for the winners in both categories.
Is there parking near by? Is it easy to park as an exhibitor with supplies in a van?
The event is in the middle of the city centre and, like every big city, there is a problem with parking, but of course for our exhibitors we have parking to unpack without needing to rush with your van.
And everyone who unpacks their car should repark their van at the parking on Palace of Culture and Science, which is around 200 meters from WeedFest. We know that is not ideal, but still the event is in the middle of the city centre and it's the best solution at the moment.
How do I book a meeting with one of the exhibitors?
For the moment, you can contact an exhibitor and talk to them to book a meeting via their website, but in a week we will launch our new platform "Cannastocks.io" and there it will be able to contact the exhibitors by filling in a meeting form, which I'm sure will be the easiest way to contact exhibitors to make an appointment.
What food facilities are available at the venue? Is it easy to grab a coffee inside?
We know that every visitor and exhibitor connected to the hemp industry, from time to time, has an irresistible temptation to eat. That's why this year we will prepare a food court outside of the building in a big space, with many food facilities such as food trucks, and of course with coffee too.
Are there any restaurants local to the venue that you can recommend for lunch?
Near WeedFest there are many restaurants and coffee shops, that's the big plus of being in a city centre.
Around the event there are plenty of options if you would like to grab a slice of pizza, kebab or go to a Polish food restaurant, but also there are many others types of cuisine, such as a Chinese restaurant or Mediterranean cuisine. I'm sure that everyone find something for them.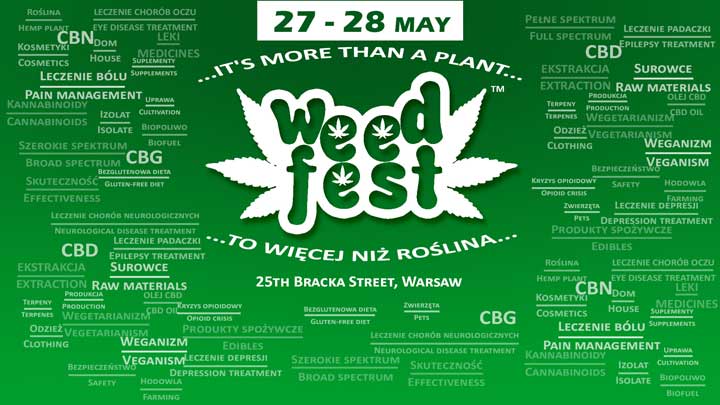 How long should I give myself to walk around the entire venue?
Well of course it depends how fast you are walking, joking of course.
Last year we had many exhibitors and, to be honest, if you would like to take a look at every product and speak with every exhibitor you will need at least one full day.
This year the event is on 3 floors, so there could be more exhibitors present. My advise for this years event is to book one day at least to walk around the event.
What are the official hashtags I should monitor on the day for Weedfest?
Of course #WeedFest #WF23 but also #TheHempCup and #WFSaturday #WFSunday.
Why should someone attend this event?
WeedFest at the moment is the biggest cannabis event in Poland and it is a big opportunity for exhibitors to present their products on the Polish cannabis market.
Our visitors are not only customers but also representatives of shops, wholesalers, start-ups, where you could promote your products and make new connections.
But WeedFest is not only for companies, our visitor are also customers who come to WeedFest to check out news on the cannabis market. They will want to speak with their favourites brands about their new products, but also to listen to speakers. Everyone will find something for themselves.
Are there any local hotels you can recommend for people hoping to stay the night?
Of course, near WeedFest we have many hotels, at least 3 or 4 and many Airbnb flats.
If you would like to spend a night in a not overly expensive but really great hotel, you can book a room at Gromada Hotel, which is around 20 meters from WeedFest.
If you would like to spend more money for the night, you can also book a hotel room in Intercontinental or Novotel. Also on Airbnb there are many rooms and flats if you prefer a more intimate place to sleep.
Is there a big party at the end?
Of course there is. It couldn't be WeedFest without an evening party. The party will be in the middle of 2 days of WeedFest, on the Saturday night. At the moment, we are on hoping to speak with a few clubs to setup a great party event.
Is it too late to become a sponsor?
No, it's not. Of course, time is running out, but we still have space for our partners which we will be delighted to start a co-operate agreement with.
At the moment, we are speaking with 3 big companies which are interested in supporting our event, but still we have many spaces for the event to offer our new sponsors.
How can exhibitors stand out in the crowd? Any little tips?
Last year, one of our exhibitors had someone playing African drums. Also, there is an easy way to promote your brand in our event catalogue or in welcome gift bags, which our visitors get for free with a ticket.
If some brands would like to be more visible, we propose a banner advertisement or rollup stand space at the event, but also it is possible to make an advertisement on event lanyards. We have many opportunities for our exhibitors to show their brand at WeedFest.
For people flying in to Poland, please can you explain the best route for them?
Of course. I suggest they fly to Chopin Airport and from there, it is easy to get to the city centre by bus or underground. You will need to catch the bus line 188 to bus stop Metro Politechnika and than take a subway line M1 to the City Centre. Alternatively, you can easily take a bus line 175 which goes straight to the city centre.
For those who will choose to travel by train, the easiest way is to go to Warsaw Central Rail Station and from there, walk to our event. It's around a 5 minute walk.
In Poland, we also have a really great app called JakDojade, where you can easily put your starting point and end point of the route and this app will show you from where do you need to get on and get off the bus. I can recommend this app with all my heart, I'm using it all the time.
Are there any competitions running on the day?
Except for The Hemp Cup, we organize a competition for Miss and Mister of WeedFest 2023.
It is our 3rd edition of this competition and I cordially invite both ladies and gentlemen to participate in our competition. In addition, we are planning a vape lounge zone at the event, where you will be able to try out vaporizers and, of course, vote for the best hemp in the Audience Award.